Learning Forward Advocacy
Over the next two-to-three weeks, Congress will consider a third wave of COVID-19 funding relief that will total $1.9 trillion and likely include:
$130 billion in additional funding for K-12 schools, which can be used for a multitude of purposes including cleaning/sanitizing schools, PPE and professional learning, and
$7 billion for devices, hotspots, and Internet access services to connect the upwards of 12 million students who lack Internet connectivity in their homes (termed the Homework Gap).
As you know, this funding is urgently needed to allow schools to reopen and to ensure that students who remain at home (because their schools continue to be remote-learning or hybrid-learning only or they have medical issues which prevent their return to in-person schooling) are able to access their classes. We need your help to get this bill across the finish line. The House of Representatives is expected to take up and pass this legislative package as soon as Friday, February 26. By early March, we expect the bill to move to the Senate, where it is expected to go right to the floor. While Senate passage will only require 50 votes because this package is being done using an arcane legislative vehicle called budget reconciliation, it can still be amended. We are concerned that some Senators may attempt to make changes to the education provisions, including eliminating significant portions of the funding or conditioning school district receipt of funds on physical school reopening. Learning Forward would strongly prefer that the current package pass "as is" without any controversial amendments.
What You Can Do Right Now
Call
,
e-mail
,
text
,
tweet
, or
message
your
Senators
and
Representatives
and tell them to support students and educators by approving without further amendment $130 billion for general K-12 COVID relief and $7 billion for the homework gap in the forthcoming Budget Reconciliation Bill.
Melinda George
(melinda.george@learningforward.
org) is chief policy officer at Learning
Forward.
Evidence, evidence, evidence
Evidence of impact is not optional. From your ESSA plans to Title II to talking with your district superintendent, everyone wants to know when professional development is making an impact and how you know. Learning Forward is here to help. We invite you to join your peers from across the U.S. to share your successes here.
Tell us what Title II funds in your school or district, and most important, what outcomes you see as a result. Outcomes might include improved graduation rates or assessment scores, improvements for specific populations of students, or other indicators that students are experiencing more meaningful learning.
ESSA Toolkits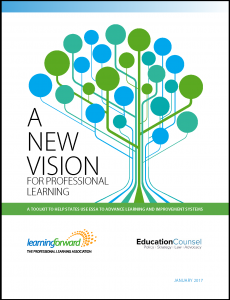 A New Vision For Professional Learning: A Toolkit to Help
States Use ESSA to Advance Learning and ImprovementSystems. This toolkit helps leaders leverage professional learning as
an essential tool in overcoming systemic inequities and guaranteeing
excellence for all.
Agents for Learning Toolkit: A Guide to Amplifying Teacher
Voice and Stakeholder Engagement. This toolkit suggests ways to cultivate teacher voice and agency in policy decisions and the implementation of professional learning.
Webinar series: Speak up for Title II
Learning Forward hosted a series of advocacy webinars designed to help educators build their advocacy skills. Each free webinar provides background information, the legislative status of Title II, and offers practical steps for how you can engage in this critical fight.
With school already in session in some places and most schools commencing in a few weeks, it is hard to believe that Congress and the Administration remain stalled in negotiating another COVID-19 Relief bill that is supposed to focus on education. After days of apparently fruitless talks, House Speaker Nancy Pelosi (D-CA), House Minority Leader […]
Read more

→
On July 13, the U.S. House of Representatives Appropriations Committee approved the fiscal year 2021 education funding bill, voting to support a $22.5 million increase for Title II-A. This is a win for Learning Forward as it not only preserves last year's $76 million increase for this critical professional learning program but adds money in […]
Read more

→
Learning Forward Advocacy
I love the emphasis on advocacy for our field – the sample templates Learning Forward shares to communicate with state reps regarding policy, the up-to-date info about policy and legislation that could impact our field. I also really appreciate that Learning Forward is the standard-bearer for professional learning standards and provides a framework that supports calibrated understanding of […]
The policy updates are, for me, one of the most valuable assets of Learning Forward.
Join our Affiliate community
Stay apprised of federal and state activities and be part of our inner circle of policy advocates.