Learning Forward Advocacy
Congress is back in session and is commencing a three-month run until the August recess during which it will attempt to make significant progress on federal education funding, a China competition bill, and perhaps budget reconciliation legislation that may contain childcare funding. Meanwhile, the FCC will close its third and likely final application window for the Emergency Connectivity Fund, which has already distributed $4,.8 billion to K-12 schools and libraries for home broadband connections and devices, on May 13th. Buckle up, it's going to be a fast-paced spring in Washington.
The second major act of the Fiscal Year 2023 budget and appropriations process (the first being the release of the President's budget) transpired in late April when US Secretary of Education Miguel Cardona testified on the Department's budget before the Labor-Health and Human Services-Education Appropriations Subcommittee. In his written remarks, Cardona called out Title II-A as a program deserving greater support: "Recognizing that school leaders are second only to classroom teachers among school factors that affect student learning, our request includes $40 million in funding for the reauthorized School Leader Recruitment and Support program to improve the recruitment, preparation, placement, support, and retention of effective principals and other school leaders in underserved schools." In his oral testimony, Cardona touted the President's proposed investments in the Pell Grant program, career-connected learning pathways, and key K-12 programs like Title I and IDEA. He also seized the opportunity to condemn actions like the so-called "Don't Say Gay bill" in Florida, arguing that schools are not places for culture wars. The Secretary discussed mental health among students, stating that it is at an all-time low, that teen suicides are up, and that bold investment was needed in this area. During the hearing, Rep. Ben Cline (R-VA) assailed wasteful spending of COVID relief dollars by schools, pointing to their use to fund gym improvements, synthetic turf upgrades, and baseball field drainage. He also pointed to a Government Accountability Office report that found that the ED system for tracking COVID data was inadequate. His questions and complaints likely represent the first of many claims of waste, fraud, and abuse related to the American Rescue Plan Act's K-12 funds.
With this hearing now in the books, the House Labor HHS Education Appropriations Subcommittee will move forward with drafting, marking-up, and voting out a full FY23 bill, with House floor action likely to follow before the August recess. The Senate, though, may never move its own version of this bill, just like last year, owing to an even partisan split on all committees. While House and Senate Appropriations Committee Chairs have expressed optimism about completing their work this year on FY23 spending bills, some are already conceding that final action will not occur until after the November elections.
While Congress moves slowly on funding, it is moving – for now – quicker on the USICA/COMPETES bills, which are designed to improve the nation's economic competitiveness against international rivals like China. In April, the House and Senate named a large slate of members of both bodies to a conference committee to negotiate the shape and scope of a final bill. The House version of this legislation contains some significant education and workforce provisions, including the reauthorization of higher education international studies programs (think Fulbright Hays) and the expansion of the use of Pell Grants for short-term programs which will help Americans retrain quickly for new jobs.
Finally, the FCC opened a third application window on April 28th for the remaining $1 billion of the $7.17 billion appropriated through the American Rescue Plan Act to provide home broadband connections and appropriate educational devices to K-12 students and educators. This application window for the Emergency Connectivity Fund (ECF) will close on May 13th. During this filing window, applicants will be able to submit ECF requests for funding to purchase eligible equipment and up to 12 months of service between July 1, 2022, and December 31, 2023, for students, school staff, and library patrons with unmet needs. It is anticipated that demand for these funds will outstrip available funding, causing the Commission to prioritize funding requests based on applicants' E-Rate discount rates, which serve as a proxy for need.
As this final application process operates, the Commission continues to review applications from the first two ECF application windows. Total commitments to date are over $4.8 billion for over 11,000 schools, 900 libraries, and 130 consortia. According to FCC Chairwoman Jessica Rosenworcel, the program has thus far supported more than 12.5 million students and provided over 10 million connected devices and 5 million connections.
Jon Bernstein is the founder and president of Bernstein Strategy Group. He has over 25 years of experience in education, technology, privacy, appropriations, and telecommunications policy. Today, Jon works closely with many of the major K-12 education associations as co-chair of both the Education and Libraries Networks Coalition and the Homework Gap Big Tent Coalition and as executive director of the National Coalition for Technology in Education and Training. He also helps lead the Principals Group, which focuses on professional development funding and related issues.
Learning Forward's Powered by Title II campaign website (link coming soon) puts all of the information, tools, and advocacy tutorials in one easy to access online location to enable educator advocates reach their Members of Congress and help convince them to support more Title II funding. On this site, advocates will find:
The latest news on Title II
Background facts, stories, research, and data on Title II
A storytelling tool to assist you in researching and explaining how Title II supports your school district
Sample letters, talking points, tweets and more to support your advocacy
Evidence, evidence, evidence
Evidence of impact is not optional. From your ESSA plans to Title II to talking with your district superintendent, everyone wants to know when professional development is making an impact and how you know. Learning Forward is here to help. We invite you to join your peers from across the U.S. to share your successes here.
Tell us what Title II funds in your school or district, and most important, what outcomes you see as a result. Outcomes might include improved graduation rates or assessment scores, improvements for specific populations of students, or other indicators that students are experiencing more meaningful learning.
ESSA Toolkits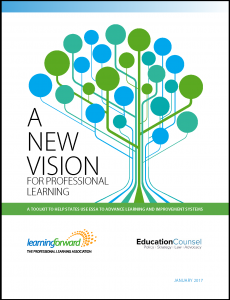 A New Vision For Professional Learning: A Toolkit to Help
States Use ESSA to Advance Learning and ImprovementSystems. This toolkit helps leaders leverage professional learning as
an essential tool in overcoming systemic inequities and guaranteeing
excellence for all.
Agents for Learning Toolkit: A Guide to Amplifying Teacher
Voice and Stakeholder Engagement. This toolkit suggests ways to cultivate teacher voice and agency in policy decisions and the implementation of professional learning.
Webinar series: Speak up for Title II
Learning Forward hosted a series of advocacy webinars designed to help educators build their advocacy skills. Each free webinar provides background information, the legislative status of Title II, and offers practical steps for how you can engage in this critical fight.
The Big Picture Pivotal pieces of President Biden's legislative agenda have recently seen movement within Congress, however annual funding bills and other key budgetary and program renewals remain stuck in Congressional gridlock. Here is a review of where the key items stand: Infrastructure: On November 15, President Biden signed the $1.2 trillion Bipartisan Infrastructure Funding […]
Read more

→
In early November, Congress finally notched a major policy win, with the House passing the $1.2 trillion Bipartisan Infrastructure Fund (BIF) bill on a bipartisan vote. The bill includes no direct funding for education but will help improve the nation's roads, bridges, drinking water, and broadband access, all of which are critical to schools. BIF, […]
Read more

→
Learning Forward Advocacy
I love the emphasis on advocacy for our field – the sample templates Learning Forward shares to communicate with state reps regarding policy, the up-to-date info about policy and legislation that could impact our field. I also really appreciate that Learning Forward is the standard-bearer for professional learning standards and provides a framework that supports calibrated understanding of […]
The policy updates are, for me, one of the most valuable assets of Learning Forward.
Join our Affiliate community
Stay apprised of federal and state activities and be part of our inner circle of policy advocates.