Learning Forward Advocacy
Congress is back in session after a month-long break over August, but they're not going to be here long. While they are here, they have one significant job to do and that's to keep the government operating. In the normal course of events, Congress would have already passed all of their appropriations bills for Fiscal Year 2023, including the one that funds education — the Labor/HHS/Education Appropriations bill — but that hasn't happened. With Congress evenly divided, it's very hard to move bills through committee, including the appropriations committee. As a result, we only have the House getting half their work done, which is fully completing action on six of the 12 bills. The Senate has moved none of its bills.
The good news is that Title II is in a pretty good position. The House Appropriations Committee has already approved an $100 million increase in funding for Title II-A, which gets us very close to where the original authorized level for Title II-A was, which was set in Every Student Succeeds Act. The other piece of good news is that Senate Democrats have put out draft appropriations bills that would increase Title II-A, but the increase would be $17 million less than what the House Appropriations Committee has approved.
Unable to pass funding bills before the October 1 fiscal deadline and so nearing a recess for the midterm elections, Congress is preparing to pass a continuing resolution or CR — a temporary spending measure that keeps the government operating and gives Congress more time to finish appropriations negotiations. This CR will likely run until the middle of December.
Once Congress returns after the elections, it will have three options to dispose of FY23 funding:
Defer decisions again and pass another continuing resolution that would push funding decisions all the way to the next Congress next year.
Pass a full year continuing resolution, which would essentially fund all government programs, including Title II-A, at last year's levels. That would result in no increases at all for the remainder of FY23. That is obviously not what Learning Forward wants to have happen as it is a wipeout of any funding increase.
Pass an omnibus appropriations bill, where all 12 appropriations bills are negotiated separately but combined into a single bill.
For those of us planning on weighing in in support of high-quality professional learning, there are three key messages our congressional representatives need to hear from us right now:
First, we want to see an omnibus bill scenario. That gives us a great chance for a significant increase for Title II-A.
Second, we want to see that funding increase be $100 million vs. the $83 million that the Senate has proposed. It is worth noting that the House's number has already been vetted by the appropriations subcommittee and full committee while the Senate's figure has not been so vetted.
Lastly — and this is really the key here – we need to make the case as to the value of high-quality professional learning and speak directly about how Title II-A supports coaches, mentors, PLCs and professional learning courses that satisfy the elements of ESSA's rigorous definition.
What is most important right now is for all educators to get out there and tell Congress what high-quality professional learning is, why it's valuable, and how it moves the needle. That means: gathering your data; telling your stories; and explaining why Title II-A funding is critical for educator retention and improving academic achievement.
Jon Bernstein is the founder and president of Bernstein Strategy Group. He has over 25 years of experience in education, technology, privacy, appropriations, and telecommunications policy. Today, Jon works closely with many of the major K-12 education associations as co-chair of both the Education and Libraries Networks Coalition and the Homework Gap Big Tent Coalition and as executive director of the National Coalition for Technology in Education and Training. He also helps lead the Principals Group, which focuses on professional development funding and related issues.
Learning Forward's Powered by Title II campaign website puts all of the information, tools, and advocacy tutorials in one easy to access online location to enable educator advocates reach their Members of Congress and help convince them to support more Title II funding. On this site, advocates will find:
The latest news on Title II
Background facts, stories, research, and data on Title II
A storytelling tool to assist you in researching and explaining how Title II supports your school district
Sample letters, talking points, tweets and more to support your advocacy
Evidence, evidence, evidence
Evidence of impact is not optional. From your ESSA plans to Title II to talking with your district superintendent, everyone wants to know when professional development is making an impact and how you know. Learning Forward is here to help. We invite you to join your peers from across the U.S. to share your successes here.
Tell us what Title II funds in your school or district, and most important, what outcomes you see as a result. Outcomes might include improved graduation rates or assessment scores, improvements for specific populations of students, or other indicators that students are experiencing more meaningful learning.
ESSA Toolkits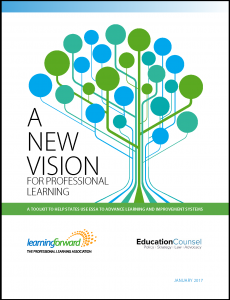 A New Vision For Professional Learning: A Toolkit to Help
States Use ESSA to Advance Learning and ImprovementSystems. This toolkit helps leaders leverage professional learning as
an essential tool in overcoming systemic inequities and guaranteeing
excellence for all.
Agents for Learning Toolkit: A Guide to Amplifying Teacher
Voice and Stakeholder Engagement. This toolkit suggests ways to cultivate teacher voice and agency in policy decisions and the implementation of professional learning.
This webinar, originally created for our Virtual Advocacy Day, includes advocacy strategies and tips that are applicable to any advocacy effort. Watch to hone your skills, build confidence, and get excited about being an advocate.
The Big Picture: As we enter the new year, Congressional leadership has a very full plate of legislative items – many of them carryovers from last year – that it must get done in a year that will be shorter because of this Fall's mid-term elections.
Read more

→
The Big Picture Pivotal pieces of President Biden's legislative agenda have recently seen movement within Congress, however annual funding bills and other key budgetary and program renewals remain stuck in Congressional gridlock. Here is a review of where the key items stand: Infrastructure: On November 15, President Biden signed the $1.2 trillion Bipartisan Infrastructure Funding […]
Read more

→
Learning Forward Advocacy
I love the emphasis on advocacy for our field – the sample templates Learning Forward shares to communicate with state reps regarding policy, the up-to-date info about policy and legislation that could impact our field. I also really appreciate that Learning Forward is the standard-bearer for professional learning standards and provides a framework that supports calibrated understanding of […]
The policy updates are, for me, one of the most valuable assets of Learning Forward.
Join our Affiliate community
Stay apprised of federal and state activities and be part of our inner circle of policy advocates.