Learning Forward Advocacy
I remember when my kids were little and they wanted my attention, they would get increasingly louder and more persuasive until they succeeded in drawing my attention away from whatever I thought should take precedence at that moment. Well, professional learning leaders, it's time for us to get louder and more persuasive. The noise overtaking education funding is growing louder and unless we make ourselves heard, Title II-A could be in trouble.
What are members of Congress prioritizing right now? Title II-A appears to be pretty low on the priority ladder for federal policy makers right now and unless we move it up a few rungs, there is likely to be little unclaimed funding left and we could see significant cuts.
As I am sure you have seen in the news, the need to raise the federal debt ceiling is the leverage that House leadership is using to draw President Biden into federal spending negotiations. With a likely deadline of June 1 for when the nation would default on its debt obligations, time is growing short for the administration and Congress to make a deal. One possible outcome is that overall federal spending is cut back to fiscal year 2022 levels. This does not mean that Title II-A would receive in fiscal year 2024 what it got in fiscal year 2022. It means that overall federal spending would be reduced – and that each federal agency and program would be in line for spending cuts, with some seeing deeper cuts than others.
Once an agreement on overall spending levels is reached, there will be many hurdles for Title II-A funding. Congressional leaders will have to decide how to dole out funds across 12 appropriations bills. The appropriations subcommittee that handles education will likely receive an FY24 allocation that is lower than it received last year. Then, the committee members will need to decide how to split those funds up among many valuable programs, not just in education, but also in health, human services, and labor – think education vs. cancer research vs. career apprenticeships. And then there's still another big hurdle: education programs will be competing against each other. Title II-A funding will have to be determined alongside funding for Title I, special needs students, Pell Grants, and more. With all those programs competing against each other, we need to make it very clear why Title II-A is vital.
Our tasks are: 1) to make sure U.S. Department of Education funding is seen as a higher priority; and 2) to make sure Title II-A funding is prioritized among other worthy education programs and receives $2.4 billion for fiscal year 2024.
This is overwhelming – what can we do?
This is the time to get loud and get persuasive. Policy makers need to hear from the education community – not in general terms but with specific examples of where Title II-A and high-quality professional learning is making a difference in an educational setting. To get the attention of policy makers for Title II-A, we must show them that professional learning is a critical use of federal funds – one that increases teacher retention, improves workplace conditions, and meets the needs of all students.
Now is the time to act on the alerts coming from Learning Forward. (Next one coming on May 23rd!) Take 30 seconds and send emails to your members of Congress and to the administration.
Get loud! And, like my kids, keep asking. Prepare to share your compelling, context-specific stories of impact. Policy makers want to be able to imagine themselves in your classroom, your school, or your district. You are their constituents. Your voice (and vote) matters to them.
Talk about successes you have had because of a coach in your school.
Explain the difference collaborative time with your peers has made in thinking about different ways to reach your hardest to reach students.
Tell them what your district does that is powered by Title II-A.
Tell them what high-quality professional learning means to you.
It's not too late – yet. This funding battle is just beginning but the buzz around professional learning needs to be there from the start to the finish. Join Learning Forward in fighting for high-quality professional learning and the funding to make sure that high-quality professional learning is available for every educator and ensure all students have access to the well-prepared and supported teachers they deserve.
The education funding battle has begun! Policy makers need to hear from the education community with specific examples of where #TitleIIA & high-quality professional learning is making a difference in an educational setting. Click To Tweet
The fight over the federal debt ceiling and deficit reduction took an ominous turn for educators last week with the U.S. House of Representatives' passage – on a razor-thin 217-215 vote – of House Speaker Kevin McCarthy's Limit, Save, Grow Act of 2023. In exchange for raising the federal debt ceiling until March 31, 2024, and thereby preventing the federal government from defaulting on its loan payments, this bill would cap overall fiscal year 2024 spending at fiscal year 2022 levels and allow only 1% in spending increases in each of the next nine years. The bill has other poison pill provisions, including those that would block climate change provisions that passed as part of Inflation Reduction Act 2022 and the student loan forgiveness plan. As a result, the Democrat-controlled U.S. Senate is unlikely to consider it and, even if the Senate did take up and pass this bill, President Biden has vowed to veto it.
Still, the specter of deep funding cuts next year for Title II-A and very limited funding increases going forward for the next nine years has alarmed Learning Forward. Most significantly, the proposed cuts would be felt unevenly, with education programs being among the domestic programs that would likely bear the brunt of the cuts. One reason is that congressional Republicans insist that the U.S. Department of Defense and U.S. Veterans Administration budgets would be exempt from cuts and might even receive increases in the federal appropriations process that would occur after Congress agrees on an overall funding level.
This leads us to be concerned that Title II-A could be squarely in the crosshairs of appropriators if this bill becomes law. Indeed, with the White House estimating that all domestic discretionary programs would be in line for 22% cuts under the current bill, Title II-A could receive a cut of $481.8 million next year. This would drop available funds from $2.190 billion in fiscal year 2023 to $1.708 billion in fiscal year 2024.
These are devastating numbers. If these cuts come to pass, they would wreak havoc on the essential professional learning opportunities available to educators around the country. The cuts could lead to hiring freezes, if not outright layoffs, for educators, including instructional coaches. They could not only stall efforts to make up for pandemic learning loss and stem the teacher shortage, but even lead to more learning loss and an increased exodus of teachers from the profession.
If these cuts come to pass, they would wreak havoc on the essential professional learning opportunities available to educators around the country. Learning Forward is pushing hard to prevent these cuts. Click To Tweet
For these reasons, Learning Forward is pushing hard to prevent these cuts. But we will need all hands on deck to steer the education budget safely into port. Next month, we will be reaching out to all of you to write to your members of Congress and urge that they not support cutting education, particularly Title II-A. We will also be holding a high-profile congressional briefing in June that will make the case for continued investments in Title II-A. We have our work cut out for us but, together, we can stop these potentially disastrous cuts.
Learning Forward's Powered by Title II campaign website puts all of the information, tools, and advocacy tutorials in one easy to access online location to enable educator advocates reach their Members of Congress and help convince them to support more Title II funding. On this site, advocates will find:
The latest news on Title II
Background facts, stories, research, and data on Title II
A storytelling tool to assist you in researching and explaining how Title II supports your school district
Sample letters, talking points, tweets and more to support your advocacy
Evidence, evidence, evidence
Evidence of impact is not optional. From your ESSA plans to Title II to talking with your district superintendent, everyone wants to know when professional development is making an impact and how you know. Learning Forward is here to help. We invite you to join your peers from across the U.S. to share your successes here.
Tell us what Title II funds in your school or district, and most important, what outcomes you see as a result. Outcomes might include improved graduation rates or assessment scores, improvements for specific populations of students, or other indicators that students are experiencing more meaningful learning.
ESSA Toolkits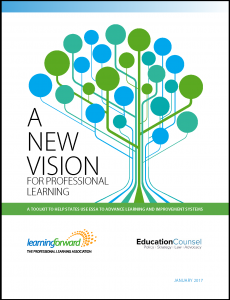 A New Vision For Professional Learning: A Toolkit to Help
States Use ESSA to Advance Learning and ImprovementSystems. This toolkit helps leaders leverage professional learning as
an essential tool in overcoming systemic inequities and guaranteeing
excellence for all.
Agents for Learning Toolkit: A Guide to Amplifying Teacher
Voice and Stakeholder Engagement. This toolkit suggests ways to cultivate teacher voice and agency in policy decisions and the implementation of professional learning.
This webinar, originally created for our Virtual Advocacy Day, includes advocacy strategies and tips that are applicable to any advocacy effort. Watch to hone your skills, build confidence, and get excited about being an advocate.
By |
On July 28, the Senate Appropriations Committee released drafts of all 12 of its fiscal year 2023 appropriations bills, none of which have been or likely will be marked up […]
Read more

→
By |
Congress is back in session and is commencing a three-month run until the August recess during which it will attempt to make significant progress on federal education funding, a China […]
Read more

→
Learning Forward Advocacy
The policy updates are, for me, one of the most valuable assets of Learning Forward.
I love the emphasis on advocacy for our field – the sample templates Learning Forward shares to communicate with state reps regarding policy, the up-to-date info about policy and legislation that could impact […]
Join our Affiliate community
Stay apprised of federal and state activities and be part of our inner circle of policy advocates.