Learning Forward Advocacy
Petition: A Recommitment to Education and Professional Learning
Educators have felt the pain of the past year acutely. We urge policymakers to recognize that educators require critical investments to educate every student. Our students are experiencing our nation's longstanding inequities more acutely than ever. The pandemic compounds our collective need for support.
Now is the time for a new beginning. Education must be a focal point of government efforts to come together, heal, and improve our world. Only when every student enjoys access to great teaching and learning will we have a thriving, equitable, and just society.
Therefore, we call on local, state, and federal governments to appropriately devote substantial resources towards the following educational priorities:
Emergency COVID relief funding for schools and school districts
Effective, job-embedded, and ongoing professional learning delivered using technology tools
Social and emotional supports for educators and students
Home broadband connectivity and appropriate learning devices for all educators and students
Every educator has the right to experience great learning every day. Every student has the right to experience great teaching every day. Our future depends on it.
Congress wrapped-up its session just before midnight on December 21 by approving two large funding packages – one covering annual appropriations for fiscal year 2021 and another being the first significant COVID-19 relief bill since the CARES Act passed last March. For professional learning and America's schools, the news was mostly positive. In the FY21, Labor HHS Education spending bill, the Title II professional development program received an $11.25 million increase, continuing an upward funding trajectory for the past few years. In the COVID-19 relief package, K-12 schools will see more than $54 billion flow out from the US Department of Education in the next month to help schools fund everything from PPE and cleaning and sanitation to learning loss and professional learning. This sum, which will flow into the Education Stabilization Fund that Congress established via the CARES Act, represents four times the amount of funding that schools received through the original CARES Act allocation.
But Congress and the incoming Biden administration have more work left to do to help our schools recover from the pandemic and rebuild robust and more equitable school systems for all children. While the k-12 COVID funding is extremely important, it still falls far short of the $175 billion that many education organizations estimate will be necessary to reopen schools and prevent massive budget cuts due to the economic downturn.
Additionally, the COVID relief bill failed to provide substantial funding to bridge the so-called homework gap. Some studies this year estimated that nearly 17 million students lacked home Internet access and or a connected device, making it impossible for them to continue learning during the pandemic, and that it would cost $12 billion to connect them all. Unfortunately, Congressional negotiators on the COVID relief bill were unable to reach a deal that would have sent approximately $3 billion to schools through the E-Rate program to furnish these students with broadband access services, hotspots and computers. While Congress did approve a separate program that provides low-income households with discounts on broadband access, hotspots and computers, that program is not narrowly targeted at low-income households with school-aged children.
Additional COVID relief, homework gap support and – of course – more funding for professional learning through Title II are all items that Learning Forward urges President-Elect Biden and the new Congress to work towards in the new year. One way to make your voice heard is to sign onto Learning Forward's new petition to the federal government that highlights these and other urgent educational needs.
Melinda George is Learning Forward's Chief Policy Officer. Melinda leads Learning Forward's policy work on critical programs such as Title IIA, including working with Learning Forward members to be strong advocates on behalf of professional learning. She also co-leads the What Matters Now Network, a tri-state network focused on increasing the frequency and equity with which teachers access and engage in effective job-embedded professional learning grounded in the use of high-quality curriculum and instructional materials.
Evidence, evidence, evidence
Evidence of impact is not optional. From your ESSA plans to Title II to talking with your district superintendent, everyone wants to know when professional development is making an impact and how you know. Learning Forward is here to help. We invite you to join your peers from across the U.S. to share your successes here.
Tell us what Title II funds in your school or district, and most important, what outcomes you see as a result. Outcomes might include improved graduation rates or assessment scores, improvements for specific populations of students, or other indicators that students are experiencing more meaningful learning.
ESSA Toolkits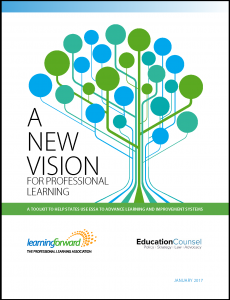 A New Vision For Professional Learning: A Toolkit to Help
States Use ESSA to Advance Learning and ImprovementSystems. This toolkit helps leaders leverage professional learning as
an essential tool in overcoming systemic inequities and guaranteeing
excellence for all.
Agents for Learning Toolkit: A Guide to Amplifying Teacher
Voice and Stakeholder Engagement. This toolkit suggests ways to cultivate teacher voice and agency in policy decisions and the implementation of professional learning.
Webinar series: Speak up for Title II
Learning Forward hosted a series of advocacy webinars designed to help educators build their advocacy skills. Each free webinar provides background information, the legislative status of Title II, and offers practical steps for how you can engage in this critical fight.
Last week, Congress approved and the President signed into law the CARES Act, the third legislative package to address the COVID-19 national emergency. This $2 trillion package contained more than $30 billion in funding for education overall, including a new Education Stabilization Fund that will provide more than $13 billion in flexible funding for K-12 […]
Read more

→
Over the last two weeks, Secretary Betsy DeVos has appeared before both the House and Senate Appropriations committees to provide a rationale for the President's proposed FY21 budget. As you will remember, the President released his budget on February 10 and the proposal calls for block granting 29 programs – including Title IIA – and […]
Read more

→
Learning Forward Advocacy
The policy updates are, for me, one of the most valuable assets of Learning Forward.
I love the emphasis on advocacy for our field – the sample templates Learning Forward shares to communicate with state reps regarding policy, the up-to-date info about policy and legislation that could impact our field. I also really appreciate that Learning Forward is the standard-bearer for professional learning standards and provides a framework that supports calibrated understanding of […]
Stay apprised of federal and state activities and be part of our inner circle of policy advocates.