Learning Forward Advocacy
The highlights
The Senate is moving forward with a FY 2022 funding appropriation bill that includes the Department of Education. It will be a critical piece of the negotiations.
The House bill contains a $150 million increase for Title II-A while the Senate bill contains only a $50 million increase.
Learning Forward and its stakeholders will push hard for Congress to adopt the House's larger increase.
This is the time to remind Congress of the value of Title II-A in attracting and retaining educators by ensuring that all receive the professional learning support that they need and desire.

The full story
This week, the Senate finally began to move forward with determining Fiscal Year 2022 funding for the Department of Education by releasing its version of the Labor HHS Education Appropriations bill. While this is progress, it comes very late – nearly three weeks after Fiscal Year 2022 began and months after the House had passed its version – and Congress has many more steps to take before FY22 education funding becomes law. It is important to note that this bill will likely not go through the regular committee mark-up process, which is followed by a full Senate floor vote, because Congress lacks the time to operate in so-called "regular order." Instead, House and Senate Appropriators will jump straight to negotiations on a final, conferenced bill, with this Senate bill and the House's approved bill serving as the bases for negotiations on a final.
From Learning Forward's perspective, the House and Senate version of the education spending bills both include much to support. The Senate bill contains significant increases for nearly every K-12 education program but at lower funding levels than the House approved version provided. For instance, the Senate bill would increase funding for the Department of Education by $24.9 billion, approximately $4.4 billion below what the House approved and what President Biden requested in his proposed budget. More specifically, the House bill contains a $150 million increase for the Title II-A educator professional development program while the Senate bill would pare than increase back to $50 million. Although both figures would represent significant increases for Title II-A and demonstrate strong Congressional support for a program that was on the brink of elimination just a few years ago, Learning Forward will push hard for Congress to adopt the House's larger increase.
We anticipate that FY 22 funding negotiations will occur over the next two months as Congress works to complete its work before the current Continuing Resolution, a temporary budget measure that was passed last month to keep the government operating, runs out on December 3rd. Thus, this is the time to remind Congress of the value of Title II-A to attracting and retaining educators to the profession by ensuring that all are receiving the professional learning support that they need and desire.
Here is what you can do:
Collect information about how much money your district receives in Title II funding and how it is allocated.
Compile your data and have your story ready to share when the time is right.
Spread the word to your colleagues that we are going to need their support in reaching out to members of Congress.
Stay tuned for the launch of Learning Forward's all-hands-on-deck advocacy campaign to push for lawmakers to support the larger House-proposed number in their final negotiations.
If you have questions or suggestions, please contact Melinda George at melinda.george@learningforward.org.
Bernstein Strategy Group's Founder and President, has over 25 years of experience in education, technology, privacy, appropriations, and telecommunications policy. Jon began his Washington, DC tenure in 1994 as a Legislative Fellow for Senator Dianne Feinstein (D-CA). He later became legislative counsel for The Lightspan Partnership, an educational software company. In 1997, Jon moved on to lobby for the National Education Association, leaving there in 1999 to commence work for the Federal Communications Commission. He departed the Commission in 2001 to begin work in private practice and launched BSG in 2005. Today, Jon works closely with many of the major K-12 education associations as co-chair of both the Education and Libraries Networks Coalition and the Homework Gap Big Tent Coalition and as Executive Director of the National Coalition for Technology in Education and Training. He also helps lead the Principals Group, which focuses on professional development funding and related issues. He received his BA from Colgate University and his JD from the Northwestern University Law School.
Evidence, evidence, evidence
Evidence of impact is not optional. From your ESSA plans to Title II to talking with your district superintendent, everyone wants to know when professional development is making an impact and how you know. Learning Forward is here to help. We invite you to join your peers from across the U.S. to share your successes here.
Tell us what Title II funds in your school or district, and most important, what outcomes you see as a result. Outcomes might include improved graduation rates or assessment scores, improvements for specific populations of students, or other indicators that students are experiencing more meaningful learning.
ESSA Toolkits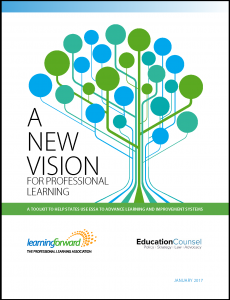 A New Vision For Professional Learning: A Toolkit to Help
States Use ESSA to Advance Learning and ImprovementSystems. This toolkit helps leaders leverage professional learning as
an essential tool in overcoming systemic inequities and guaranteeing
excellence for all.
Agents for Learning Toolkit: A Guide to Amplifying Teacher
Voice and Stakeholder Engagement. This toolkit suggests ways to cultivate teacher voice and agency in policy decisions and the implementation of professional learning.
Webinar series: Speak up for Title II
Learning Forward hosted a series of advocacy webinars designed to help educators build their advocacy skills. Each free webinar provides background information, the legislative status of Title II, and offers practical steps for how you can engage in this critical fight.
Over the next two-to-three weeks, Congress will consider a third wave of COVID-19 funding relief that will total $1.9 trillion and likely include: $130 billion in additional funding for K-12 schools, which can be used for a multitude of purposes including cleaning/sanitizing schools, PPE and professional learning, and $7 billion for devices, hotspots, and Internet […]
Read more

→
On February 3, the Senate HELP Committee held its confirmation hearing of Connecticut Commissioner of Education Miguel Cardona to be US Secretary of Education. The hearing was largely uneventful and it is expected that Cardona's nomination will proceed to full Senate confirmation as soon as this week with likely bipartisan votes to approve him. On […]
Read more

→
Learning Forward Advocacy
The policy updates are, for me, one of the most valuable assets of Learning Forward.
I love the emphasis on advocacy for our field – the sample templates Learning Forward shares to communicate with state reps regarding policy, the up-to-date info about policy and legislation that could impact our field. I also really appreciate that Learning Forward is the standard-bearer for professional learning standards and provides a framework that supports calibrated understanding of […]
Join our Affiliate community
Stay apprised of federal and state activities and be part of our inner circle of policy advocates.