Learning Forward Advocacy
The big picture
As we enter the new year, Congressional leadership has a very full plate of legislative items – many of them carryovers from last year – that it must get done in a year that will be shorter because of this Fall's mid-term elections.
Budget reconciliation: While the House passed its version of the Build Back Better Act (BBBA) with a strictly partisan vote back in November, the Senate still lacks the votes it needs to pass the House version or its own. The House bill would provide $1.75 trillion bill to fund universal pre-K, a Pell grant expansion, a Medicare expansion, renewable energy credits, and major Obamacare subsidies. Senate Committees have worked through key pieces of the House bill to make revisions, with  Senate Health Education Labor and Pensions Committee making some slight changes, including decreasing the total cost of the education sections by $200 million by eliminating grants for Native American Language teacher professional development and slightly decreasing funding for Community College and Industry Partnership Grants.
Even with these and other changes, Senator Joe Manchin (D-WV) has indicated that he still cannot support the bill and is looking for a narrower and much less expensive package. His general rationale for continued opposition to the House bill is that its high overall cost will exacerbate inflation. Additionally, he opposes expanding the current child tax credit. As a result of Manchin's position, Senate Democratic leadership do not have the 51 votes that they would need to move this bill through the budget reconciliation process and face the increasingly difficult task of finding a new path forward that will be amenable to Democrats in both the Senate and House. Many House progressives will not support a pared down version of the bill that Manchin might be willing to support, rendering it difficult to secure House passage again. Although the road to the bill's passage remains unclear, Senate Majority Leader Chuck Schumer (D-NY) has promised a vote on BBBA within the coming weeks.
Appropriations: With Congress still grappling with BBBA and an effort to pass Voting Rights legislation, FY22 appropriations remain on the back burner – even though Congress is facing a February 18th deadline to fund the government. While the new federal fiscal year began on October 1, Congress has still not approved any of the FY 22 appropriations bills. To prevent a government shutdown, Congress has passed two Continuing Resolutions to keep the government operating, the most recent of which will expire on February 18th. This has effectively delayed further decisions on annual federal education funding to this year and may well delay the President's FY23 budget. Additionally, the prospect of a Continuing Resolution to cover the remainder of this year remains a possibility. Should that occur, our hopes for increases in Title II of between $50 million (Senate proposal) and $150 million (House approved) would evaporate.

Debt ceiling: One item likely off of Congress' plate for the remainder of this year is the debt ceiling. Before recessing for the holidays, Congress passed and the President signed legislation that would increase the federal debt limit by $2.5 trillion, thereby allowing the federal government to continue borrowing in order to continue serving its debt obligations. This will allow Congress to wait until 2023 to discuss raising it further.
Melinda George
(melinda.george@learningforward.
org) is chief policy officer at Learning
Forward.
Evidence, evidence, evidence
Evidence of impact is not optional. From your ESSA plans to Title II to talking with your district superintendent, everyone wants to know when professional development is making an impact and how you know. Learning Forward is here to help. We invite you to join your peers from across the U.S. to share your successes here.
Tell us what Title II funds in your school or district, and most important, what outcomes you see as a result. Outcomes might include improved graduation rates or assessment scores, improvements for specific populations of students, or other indicators that students are experiencing more meaningful learning.
ESSA Toolkits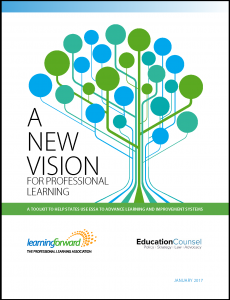 A New Vision For Professional Learning: A Toolkit to Help
States Use ESSA to Advance Learning and ImprovementSystems. This toolkit helps leaders leverage professional learning as
an essential tool in overcoming systemic inequities and guaranteeing
excellence for all.
Agents for Learning Toolkit: A Guide to Amplifying Teacher
Voice and Stakeholder Engagement. This toolkit suggests ways to cultivate teacher voice and agency in policy decisions and the implementation of professional learning.
Webinar series: Speak up for Title II
Learning Forward hosted a series of advocacy webinars designed to help educators build their advocacy skills. Each free webinar provides background information, the legislative status of Title II, and offers practical steps for how you can engage in this critical fight.
The highlights The Senate is moving forward with a FY 2022 funding appropriation bill that includes the Department of Education. It will be a critical piece of the negotiations. The House bill contains a $150 million increase for Title II-A while the Senate bill contains only a $50 million increase. Learning Forward and its stakeholders […]
Read more

→
The last couple of weeks saw some progress on Capitol Hill, but mostly it was about pushing the spending battles off until December. At the end of September, the House and Senate came to agreement on a continuing resolution to temporarily fund the government and avoid a government shutdown. The resolution allows funding of the […]
Read more

→
Learning Forward Advocacy
I love the emphasis on advocacy for our field – the sample templates Learning Forward shares to communicate with state reps regarding policy, the up-to-date info about policy and legislation that could impact our field. I also really appreciate that Learning Forward is the standard-bearer for professional learning standards and provides a framework that supports calibrated understanding of […]
The policy updates are, for me, one of the most valuable assets of Learning Forward.
Join our Affiliate community
Stay apprised of federal and state activities and be part of our inner circle of policy advocates.