Learning Forward Advocacy
The $3.5 trillion Budget Reconciliation Act, which may contain hundreds of billions of dollars for Biden Administration priorities like free community college, free pre-K, and teacher preparation programs, is beginning to move more quickly down the path to enactment. This week, the full House of Representatives approved a Budget Reconciliation bill that establishes the topline numbers and general categories where dollars will be spent. Like the Senate's version of the same bill, approved three weeks ago, the House bill allocates more than $700 billion for the Departments of Labor, Health and Human Services, and Education. Now, House and Senate Committees will begin determining to which policy priorities and programs these dollars will go, with final passage likely later this fall.
President Biden's American Families Plan, which is the template Congress will use in allocating Budget Reconciliation funding, seeks $9 billion for Education and Preparation for Teachers. It makes the case for this spending by declaring: "Few people can have a bigger impact on a child's life than a great teacher. Unfortunately, the U.S. faces a large and growing teacher shortage…[W]hile teachers of color can have a particularly strong impact on students of color, around one in five teachers are people of color, compared to more than half of K-12 public school students."
The American Families Plan calls for investing this $9 billion in three main categories:
Addressing teacher shortages, improving teacher preparation, and strengthening pipelines for teachers of color;
Helping current teachers earn in-demand credentials; and
Investing in educator leadership.
Learning Forward supports these priorities. We are working closely with our allies to make sure that some of these investments are steered towards recruiting, retaining, and providing professional learning to principals and school leaders as well as teachers.
Before the final passage of this Budget Reconciliation Act, Learning Forward and its members will have an opportunity to influence in which American Families Plan priorities Congress decides to invest. We will be pulling out all of the stops, including direct advocacy in Washington and requesting our members to weigh in directly with Congress.
For now, we're keeping you posted on developments with the Budget Reconciliation Act. Soon, we'll ask you to add your voice to the request for significant new support for professional learning for all of our educators.
Melinda George
(melinda.george@learningforward.
org) is chief policy officer at Learning
Forward.
Evidence, evidence, evidence
Evidence of impact is not optional. From your ESSA plans to Title II to talking with your district superintendent, everyone wants to know when professional development is making an impact and how you know. Learning Forward is here to help. We invite you to join your peers from across the U.S. to share your successes here.
Tell us what Title II funds in your school or district, and most important, what outcomes you see as a result. Outcomes might include improved graduation rates or assessment scores, improvements for specific populations of students, or other indicators that students are experiencing more meaningful learning.
ESSA Toolkits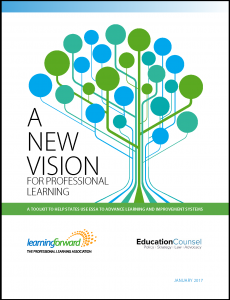 A New Vision For Professional Learning: A Toolkit to Help
States Use ESSA to Advance Learning and ImprovementSystems. This toolkit helps leaders leverage professional learning as
an essential tool in overcoming systemic inequities and guaranteeing
excellence for all.
Agents for Learning Toolkit: A Guide to Amplifying Teacher
Voice and Stakeholder Engagement. This toolkit suggests ways to cultivate teacher voice and agency in policy decisions and the implementation of professional learning.
Webinar series: Speak up for Title II
Learning Forward hosted a series of advocacy webinars designed to help educators build their advocacy skills. Each free webinar provides background information, the legislative status of Title II, and offers practical steps for how you can engage in this critical fight.
Last week, Education Secretary Miguel Cardona went up to Capitol Hill to advocate for the President's Proposed FY22 Education Budget and faced questions from the Senate Appropriations Subcommittee that focused mainly on higher education funding and issues related to student loans. Republican Senators pushed back on overall spending levels and the concept of free community […]
Read more

→
On May 5, the House Labor HHS Education Appropriations Subcommittee launched the FY 2022 appropriations process with a hearing to hear from US Secretary of Education Miguel Cardona about President Biden's proposed FY22 budget for the Department of Education. The hearing occurred even though the Department has only publicly released a few top-line FY22 education […]
Read more

→
Learning Forward Advocacy
The policy updates are, for me, one of the most valuable assets of Learning Forward.
I love the emphasis on advocacy for our field – the sample templates Learning Forward shares to communicate with state reps regarding policy, the up-to-date info about policy and legislation that could impact our field. I also really appreciate that Learning Forward is the standard-bearer for professional learning standards and provides a framework that supports calibrated understanding of […]
Join our Affiliate community
Stay apprised of federal and state activities and be part of our inner circle of policy advocates.