Learning Forward Advocacy
On Tuesday, Dec. 20, lawmakers released their highly anticipated $1.7 trillion government funding package for fiscal year 2023. Both chambers must act fast to pass the omnibus to avert a government shutdown on Friday, with the Senate expected to consider the package as early as Wednesday and the House to follow suit quickly thereafter.
Significantly for Learning Forward, Title II-A received a $20 million boost, a much smaller increase than what was recommended by both the House and Senate Appropriations Committees and the $100 million increase Learning Forward was advocating for.
The bill's legislative report retained some of the positive language for school leaders seen in the Senate's version earlier this year. The report language urges the Department of Education to issue guidance on best practices for strengthening the school leader pipeline with the use of federal funds.
The Department of Education is set to receive $79.6 billion, representing a $3.2 billion increase from FY22, but a sizable decrease from President Biden's budget request and the appropriations committees' recommendations. However, several Biden Administration priorities received notable increases from FY22, including Title I, which will get a $850 million boost, and special education which will get a $934 million increase. Other major Title programs – Title III (+$59 million), Impact Aid (+$61 million), Title IV-A (+$100 million), CTE Grants (+$75 million), and Title II-A (+$20 million) – are all set to receive increases in the FY23 omnibus. The Charter School program is one of the notable programs that will be flat funded, which is consistent with Democrats' continued crackdown on the program.
Below is a list of key K-12 funding levels: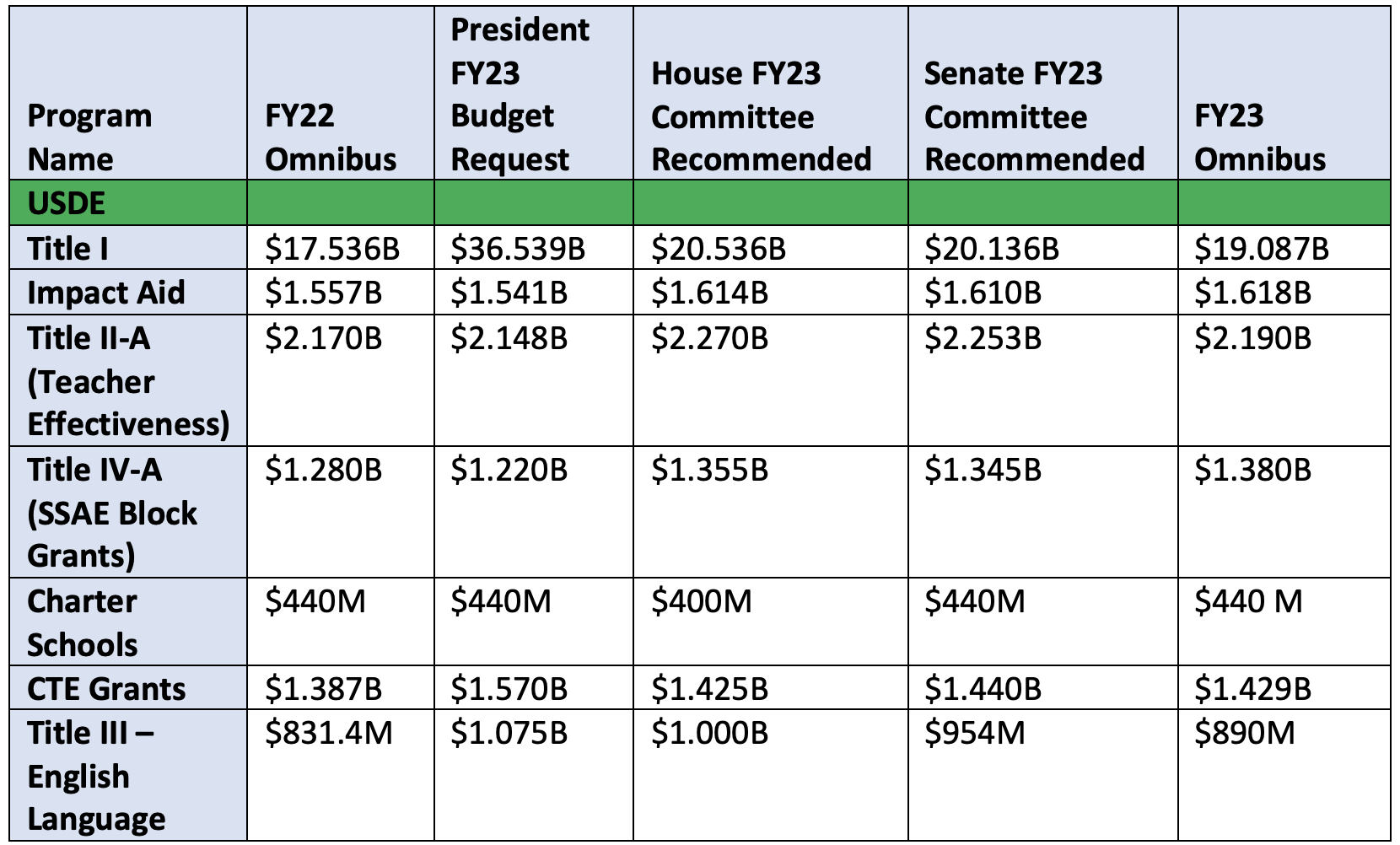 Learning Forward's Powered by Title II campaign website puts all of the information, tools, and advocacy tutorials in one easy to access online location to enable educator advocates reach their Members of Congress and help convince them to support more Title II funding. On this site, advocates will find:
The latest news on Title II
Background facts, stories, research, and data on Title II
A storytelling tool to assist you in researching and explaining how Title II supports your school district
Sample letters, talking points, tweets and more to support your advocacy
Evidence, evidence, evidence
Evidence of impact is not optional. From your ESSA plans to Title II to talking with your district superintendent, everyone wants to know when professional development is making an impact and how you know. Learning Forward is here to help. We invite you to join your peers from across the U.S. to share your successes here.
Tell us what Title II funds in your school or district, and most important, what outcomes you see as a result. Outcomes might include improved graduation rates or assessment scores, improvements for specific populations of students, or other indicators that students are experiencing more meaningful learning.
ESSA Toolkits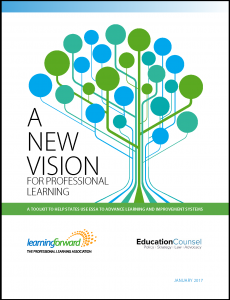 A New Vision For Professional Learning: A Toolkit to Help
States Use ESSA to Advance Learning and ImprovementSystems. This toolkit helps leaders leverage professional learning as
an essential tool in overcoming systemic inequities and guaranteeing
excellence for all.
Agents for Learning Toolkit: A Guide to Amplifying Teacher
Voice and Stakeholder Engagement. This toolkit suggests ways to cultivate teacher voice and agency in policy decisions and the implementation of professional learning.
This webinar, originally created for our Virtual Advocacy Day, includes advocacy strategies and tips that are applicable to any advocacy effort. Watch to hone your skills, build confidence, and get excited about being an advocate.
By |
Federal lawmakers need to hear from Learning Forward members and network partners to ensure that professional learning is a policy priority. They need to know that professional learning, and in […]
Read more

→
By |
On July 28, the Senate Appropriations Committee released drafts of all 12 of its fiscal year 2023 appropriations bills, none of which have been or likely will be marked up […]
Read more

→
Learning Forward Advocacy
The policy updates are, for me, one of the most valuable assets of Learning Forward.
I love the emphasis on advocacy for our field – the sample templates Learning Forward shares to communicate with state reps regarding policy, the up-to-date info about policy and legislation that could impact […]
Join our Affiliate community
Stay apprised of federal and state activities and be part of our inner circle of policy advocates.