Learning Forward Advocacy
On July 28, the Senate Appropriations Committee released drafts of all 12 of its fiscal year 2023 appropriations bills, none of which have been or likely will be marked up in the regular order of the Senate Committee process. The House, however, has marked up all 12 appropriations bill and passed six of them on the floor. The House version of the Labor HHS Education bill is not among those that have been approved and it appears increasingly likely that will not occur – if at all – until September.
As expected, the Senate's education numbers were largely less generous than those found in the House version. Significantly for Learning Forward, Title II received a strong increase of $83 million, which is $17 million below the House's bill.
Overall, the Department of Education would receive $87.93 billion, which represents a $7.2 billion increase over fiscal year 2022's funding level but is about $2.7 billion less than the House bill. Nearly all K-12 programs also saw less money in the Senate's bill than they did in the House bill. Most prominently, Title I received a sizable $2.6 billion increase over FY22 in the Senate's bill, but still comes in $400 million below the House's figure and well short of President Biden's request for a nearly $20 billion increase. Individuals with Disabilities Act (IDEA) lost nearly $1 billion between the Senate and the House. The other major Title programs – Title III (+$123 million), Impact Aid (+$53 million), Title IV-A (+$65 million), and CTE Grants (+$13 million) – all would receive decent increases in the Senate bill but incrementally less than in the House bill. The only real winners in the Senate compared to the House were the Charter School Program, which saw the restoration of the $40 million cut by the House, and CTE, which received a $15 million bump.
The bill's legislative report contained positive language that recommends the department urge states and school districts expend other program funds to support school principals and school leaders:
"Supporting Principals and School Leaders —The Committee recognizes that principals and school leaders are critical to both student outcomes and teacher retention. Research shows that top-performing principals generate nearly three months of additional learning for students in both reading and math annually. Research has also found that the most predictive workplace condition for teacher attrition is a lack of administrative support. At the same time, 70 percent of superintendents identified recruiting and retaining principals as a challenge, and four out of 10 principals reported plans to leave the profession in the next three years. The Committee directs the Department to issue guidance to SEAs and LEAs on the use of federal funds across various programs, including Title I–A and Title II–A of the ESEA, for implementing evidence based-strategies to recruit, prepare, support, and retain strong principals and school leaders."
Below is a chart of key K-12 program funding levels: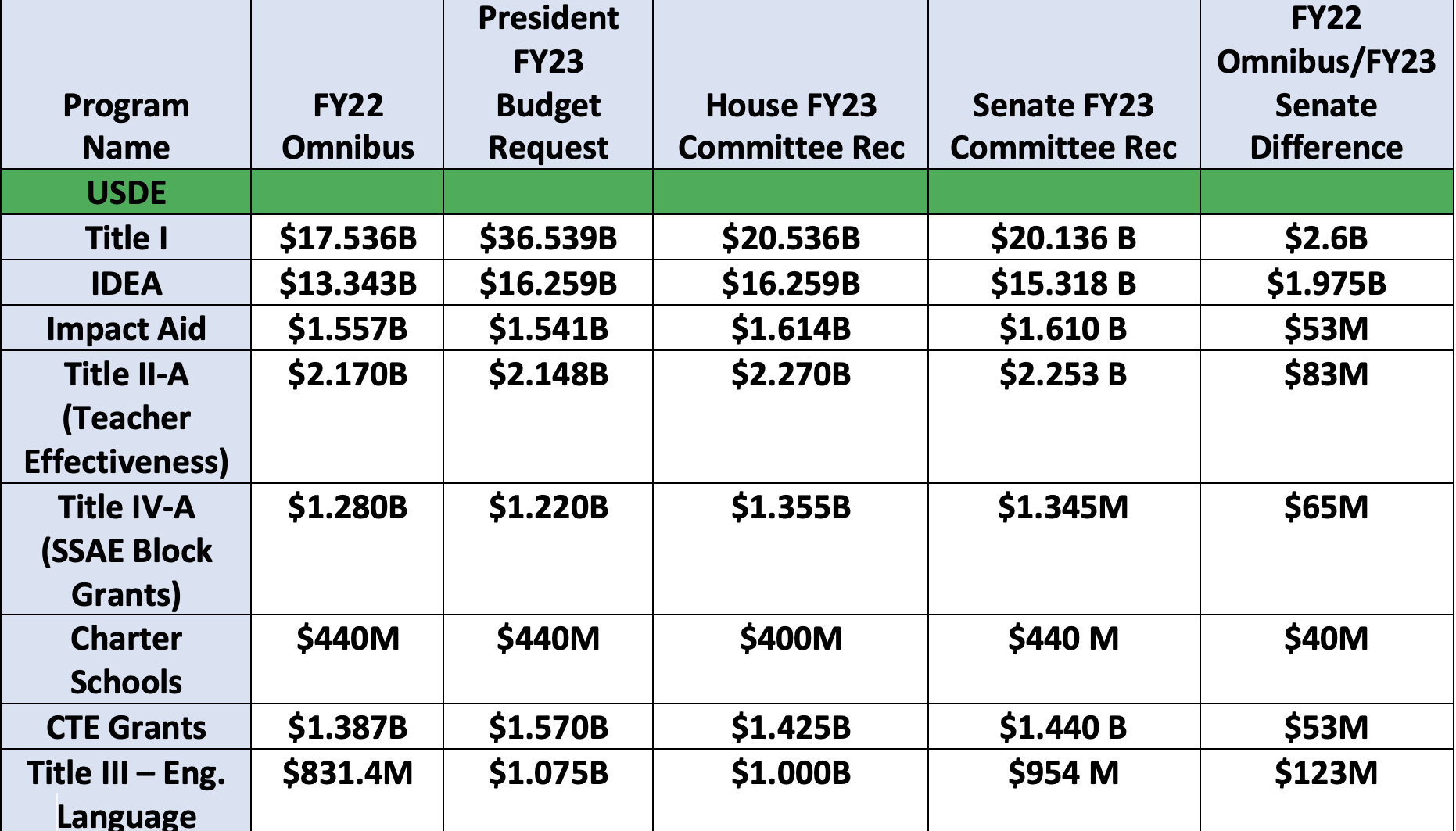 Jon Bernstein is the founder and president of Bernstein Strategy Group. He has over 25 years of experience in education, technology, privacy, appropriations, and telecommunications policy. Today, Jon works closely with many of the major K-12 education associations as co-chair of both the Education and Libraries Networks Coalition and the Homework Gap Big Tent Coalition and as executive director of the National Coalition for Technology in Education and Training. He also helps lead the Principals Group, which focuses on professional development funding and related issues.
Learning Forward's Powered by Title II campaign website (link coming soon) puts all of the information, tools, and advocacy tutorials in one easy to access online location to enable educator advocates reach their Members of Congress and help convince them to support more Title II funding. On this site, advocates will find:
The latest news on Title II
Background facts, stories, research, and data on Title II
A storytelling tool to assist you in researching and explaining how Title II supports your school district
Sample letters, talking points, tweets and more to support your advocacy
Evidence, evidence, evidence
Evidence of impact is not optional. From your ESSA plans to Title II to talking with your district superintendent, everyone wants to know when professional development is making an impact and how you know. Learning Forward is here to help. We invite you to join your peers from across the U.S. to share your successes here.
Tell us what Title II funds in your school or district, and most important, what outcomes you see as a result. Outcomes might include improved graduation rates or assessment scores, improvements for specific populations of students, or other indicators that students are experiencing more meaningful learning.
ESSA Toolkits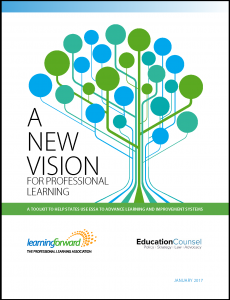 A New Vision For Professional Learning: A Toolkit to Help
States Use ESSA to Advance Learning and ImprovementSystems. This toolkit helps leaders leverage professional learning as
an essential tool in overcoming systemic inequities and guaranteeing
excellence for all.
Agents for Learning Toolkit: A Guide to Amplifying Teacher
Voice and Stakeholder Engagement. This toolkit suggests ways to cultivate teacher voice and agency in policy decisions and the implementation of professional learning.
Webinar series: Speak up for Title II
Learning Forward hosted a series of advocacy webinars designed to help educators build their advocacy skills. Each free webinar provides background information, the legislative status of Title II, and offers practical steps for how you can engage in this critical fight.
Congress is back in session and is commencing a three-month run until the August recess during which it will attempt to make significant progress on federal education funding, a China competition bill, and perhaps budget reconciliation legislation that may contain childcare funding. Meanwhile, the FCC will close its third and likely final application window for […]
Read more

→
On March 28, President Biden released his FY23 proposed federal budget, and the news was decidedly mixed for education, with Title II-A sustaining a net cut of $21 million. Muddying the waters on funding levels is the fact that the FY23 budget figures are based on FY21 funding levels, not on the recently completed FY22 […]
Read more

→
Learning Forward Advocacy
I love the emphasis on advocacy for our field – the sample templates Learning Forward shares to communicate with state reps regarding policy, the up-to-date info about policy and legislation that could impact our field. I also really appreciate that Learning Forward is the standard-bearer for professional learning standards and provides a framework that supports calibrated understanding of […]
The policy updates are, for me, one of the most valuable assets of Learning Forward.
Join our Affiliate community
Stay apprised of federal and state activities and be part of our inner circle of policy advocates.