Learning Forward Advocacy
On May 5, the House Labor HHS Education Appropriations Subcommittee launched the FY 2022 appropriations process with a hearing to hear from US Secretary of Education Miguel Cardona about President Biden's proposed FY22 budget for the Department of Education. The hearing occurred even though the Department has only publicly released a few top-line FY22 education investments through President Biden's so-called "skinny budget." A win for the professional learning community came in Chair Rosa DeLauro's (D-CT) opening statement when she used the hearing as an opportunity to underscore at least one key priority not mentioned in the skinny budget – Title II-A. She said: "This week we celebrate Teacher Appreciation Week, a time to give back and show our gratitude to the countless hardworking teachers who dedicate their lives to educating our nation's students. This is why we must continue to support teacher training and preparation programs, including additional resources for Title II."
While funding through the ARP Act is significant & needed, we should not lose sight of the need to increase funding for professional learning through the regular appropriations process. Click To Tweet
The Biden Administration has proposed a 41% increase in the Department's budget for the coming year. While Democrats celebrated significant increases for Title I, IDEA, mental health and Pell Grants as reversing years of underinvestment in education and ensuring greater equity, Republicans were highly critical of the proposed increase, particularly in light of the massive amount of COVID-19 emergency spending that has been directed to education over the past 15 months. Ranking Member Cole (R-OK) called the education increases "unnecessary, irresponsible and unacceptable," although he did endorse the proposed $2.5 billion increase for IDEA. Rep. Cline (R-VA) chimed-in that the budget was "out of whack." Cole also noted his concern in two other key budgetary areas: 1) that the Appropriations Committee's traditional authority over spending had been largely bypassed by the American Rescue Plan's reliance on the budget reconciliation process; and 2) that the parties had no overall spending agreement on non-defense and defense activities, with defense flat funded and non-defense programs receiving substantial increases.
A number of members discussed equity issues including desegregation efforts and school discipline. Several members noted the importance of student mental health and the shortage of mental health professionals in schools, including Reps. Clark (D-MA), Herera-Beutler (R-WA) and Lawrence (D-MI). On assessments, Rep. Frankel asked Cardona about whether he would consider extending existing assessment flexibility. He responded: "Any little bit of data helps so that I can ensure that we're closing equity gaps through those funds, right? So, if this group of students was hit harder, I want to make sure that more funds go there. But I know teachers across the country don't need a standardized assessment to tell them how their students are doing. There's not one teacher that needs that to tell them how their students are doing. They know… I hope to have a robust conversation about how to evolve our assessments to make sure they measure what they're supposed to."
Learning Forward will continue to champion professional learning on the Hill and we need your help. Every educator needs to have a voice in this campaign. While funding through the American Rescue Plan Act is significant and needed, we should not lose sight of the need to increase funding for professional learning through the regular appropriations process. This is the funding that schools, districts, and states can count on year over year and educator professional learning needs continue to increase.
Add your voice to the education policy conversation with just one click using @LearningForward's new online advocacy tool at learningforward.org/advocacy. Click To Tweet
Melinda George
(melinda.george@learningforward.
org) is chief policy officer at Learning
Forward.
Evidence, evidence, evidence
Evidence of impact is not optional. From your ESSA plans to Title II to talking with your district superintendent, everyone wants to know when professional development is making an impact and how you know. Learning Forward is here to help. We invite you to join your peers from across the U.S. to share your successes here.
Tell us what Title II funds in your school or district, and most important, what outcomes you see as a result. Outcomes might include improved graduation rates or assessment scores, improvements for specific populations of students, or other indicators that students are experiencing more meaningful learning.
ESSA Toolkits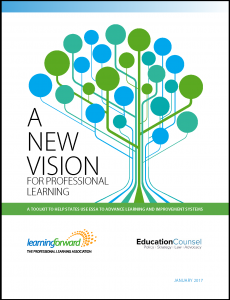 A New Vision For Professional Learning: A Toolkit to Help
States Use ESSA to Advance Learning and ImprovementSystems. This toolkit helps leaders leverage professional learning as
an essential tool in overcoming systemic inequities and guaranteeing
excellence for all.
Agents for Learning Toolkit: A Guide to Amplifying Teacher
Voice and Stakeholder Engagement. This toolkit suggests ways to cultivate teacher voice and agency in policy decisions and the implementation of professional learning.
Webinar series: Speak up for Title II
Learning Forward hosted a series of advocacy webinars designed to help educators build their advocacy skills. Each free webinar provides background information, the legislative status of Title II, and offers practical steps for how you can engage in this critical fight.
As of this writing, the American Recovery Act has been passed by the U.S. Senate and it is on its way to the House to be passed as revised by the Senate and then it will go to President Joe Biden to be signed into law. It is expected that this will happen before the […]
Read more

→
Over the next two-to-three weeks, Congress will consider a third wave of COVID-19 funding relief that will total $1.9 trillion and likely include: $130 billion in additional funding for K-12 schools, which can be used for a multitude of purposes including cleaning/sanitizing schools, PPE and professional learning, and $7 billion for devices, hotspots, and Internet […]
Read more

→
Learning Forward Advocacy
The policy updates are, for me, one of the most valuable assets of Learning Forward.
I love the emphasis on advocacy for our field – the sample templates Learning Forward shares to communicate with state reps regarding policy, the up-to-date info about policy and legislation that could impact our field. I also really appreciate that Learning Forward is the standard-bearer for professional learning standards and provides a framework that supports calibrated understanding of […]
Join our Affiliate community
Stay apprised of federal and state activities and be part of our inner circle of policy advocates.