Learning Forward Advocacy
As of this writing, the American Recovery Act has been passed by the U.S. Senate and it is on its way to the House to be passed as revised by the Senate and then it will go to President Joe Biden to be signed into law. It is expected that this will happen before the end of the week. Included in the bill is the
Elementary and Secondary School Emergency Relief Fund
, an almost $123 billion fund to support K-12 schools. These funds will go first to the U.S. Department of Education, which will reserve $800 million off the top to identify and provide services to homeless children and youth. The remaining funds will then be allocated to states based on the Title I poverty formula. States must reserve 5% of funds received to address learning loss, not less than 1% for summer enrichment programs, not less than 1% for afterschool programs, and no more than ½% for administrative costs.  States will then be required to allocate 90% of the funds to school districts, also based on the Title I poverty formula. The intent is for the funds to flow to the U.S. Department of Education immediately and then to the states shortly thereafter. The funds are available until September 30, 2023. Once the funds have been allocated to local school districts, the districts must apportion the funds in two ways. The first 20% of funds received must be used "to address learning loss through the implementation of evidence-based interventions, such as summer learning, extended day, comprehensive afterschool programs, or extended school year programs, and ensure that such interventions respond to students' academic, social, and emotional needs and address the disproportionate impact of the coronavirus on" disadvantaged student subgroups, homeless students and students in foster care. The remaining 80% of funds can be used for "any activity authorized in the following current laws: Elementary and Secondary Education Act of 1965, Individuals with Disabilities Education Act, Adult Education and Family Literacy Act, and Carl D. Perkins Career and Technical Education Act of 2006." 
This, of course, includes professional learning activities covered by Title IIA
.
Call to Action: Elevate professional learning as an allowable use of funds.
All Learning Forward members and stakeholders are encouraged to elevate professional learning as a needed use of these funds. While there are other critical needs that will necessarily be covered using this funding, educators must step forward to say that professional learning and support for educators has never been more important. Instructional coaching, mentoring, online PLCs, virtual supports for engaging students and any other ongoing, school-embedded professional learning activity should be considered. Also included in the bill is $7.172 billion to address the "homework gap", a term coined to describe the inequities that exist when some students have access to high-speed internet access and devices at home and others don't. These funds will flow through the existing E-rate program. The funds can be used by schools and libraries to purchase connected devices (subject to a reasonableness standard) and Internet access services for students and teachers unconnected at home. The grants would be for 100% of the cost of the technology or services.
Melinda George
(melinda.george@learningforward.
org) is chief policy officer at Learning
Forward.
Evidence, evidence, evidence
Evidence of impact is not optional. From your ESSA plans to Title II to talking with your district superintendent, everyone wants to know when professional development is making an impact and how you know. Learning Forward is here to help. We invite you to join your peers from across the U.S. to share your successes here.
Tell us what Title II funds in your school or district, and most important, what outcomes you see as a result. Outcomes might include improved graduation rates or assessment scores, improvements for specific populations of students, or other indicators that students are experiencing more meaningful learning.
ESSA Toolkits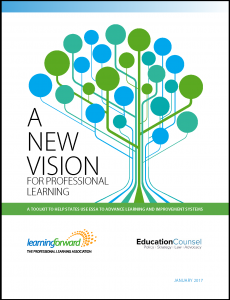 A New Vision For Professional Learning: A Toolkit to Help
States Use ESSA to Advance Learning and ImprovementSystems. This toolkit helps leaders leverage professional learning as
an essential tool in overcoming systemic inequities and guaranteeing
excellence for all.
Agents for Learning Toolkit: A Guide to Amplifying Teacher
Voice and Stakeholder Engagement. This toolkit suggests ways to cultivate teacher voice and agency in policy decisions and the implementation of professional learning.
Webinar series: Speak up for Title II
Learning Forward hosted a series of advocacy webinars designed to help educators build their advocacy skills. Each free webinar provides background information, the legislative status of Title II, and offers practical steps for how you can engage in this critical fight.
Over the next two-to-three weeks, Congress will consider a third wave of COVID-19 funding relief that will total $1.9 trillion and likely include: $130 billion in additional funding for K-12 schools, which can be used for a multitude of purposes including cleaning/sanitizing schools, PPE and professional learning, and $7 billion for devices, hotspots, and Internet […]
Read more

→
On February 3, the Senate HELP Committee held its confirmation hearing of Connecticut Commissioner of Education Miguel Cardona to be US Secretary of Education. The hearing was largely uneventful and it is expected that Cardona's nomination will proceed to full Senate confirmation as soon as this week with likely bipartisan votes to approve him. On […]
Read more

→
Learning Forward Advocacy
The policy updates are, for me, one of the most valuable assets of Learning Forward.
I love the emphasis on advocacy for our field – the sample templates Learning Forward shares to communicate with state reps regarding policy, the up-to-date info about policy and legislation that could impact our field. I also really appreciate that Learning Forward is the standard-bearer for professional learning standards and provides a framework that supports calibrated understanding of […]
Join our Affiliate community
Stay apprised of federal and state activities and be part of our inner circle of policy advocates.