Learning Forward Advocacy
In early November, Congress finally notched a major policy win, with the House passing the $1.2 trillion Bipartisan Infrastructure Fund (BIF) bill on a bipartisan vote. The bill includes no direct funding for education but will help improve the nation's roads, bridges, drinking water, and broadband access, all of which are critical to schools. BIF, which passed the Senate months ago, now heads to President Biden for his signature and enactment.
On the same day that the House passed BIF, House Democrats came together to vote for the rule that will govern debate on the $1.75 trillion Build Back Better Act (BBBA). The slimmed down BBBA, cut virtually in half after weeks of negotiations, still contains some wins for education: millions of dollars for teacher and school leader recruitment, retention, and professional development as well as $300 million for home Internet connections for students and teachers. The full House is expected to vote on the bill itself the week of November 15. However, the road to it becoming law remains a long one, with the Senate getting a crack at the bill once the House approves it. Although the bill only requires 51 votes to pass the Senate, Senate Democrats still lack the necessary votes as Senators Manchin (D-WV) and Sinema (D-AZ) continue to withhold their support out of concern for the bill's overall price tag and opposition to some of its provisions. This battle could go until the end of the year and beyond.
Congress has also made some progress on FY22 education funding, with the Senate releasing its version of the Labor HHS Education spending bill. The Senate's version is less generous than the House's version, providing less funding to the Department of Education overall and only a $50 million increase for Title II-A (The House bill proposed an $150 million increase for Title II-A). Negotiations continue on a final education spending deal as well as on final funding levels for all federal programs. Under the terms of the current temporary budget in effect (called a Continuing Resolution or CR), Congress has until December 3 to either pass final spending bills or approve another CR. If they fail to do either, the federal government will shut down. Congress also must raise the federal debt-ceiling by December 3 or face the prospect of the nation defaulting on its debts.
Learning Forward will keep you apprised of progress, negotiations, and roadblocks for all of these legislative activities. Check back to this website for regular updates.
In the meantime, what should the Learning Forward community be focusing on? It is time for us to shore up the foundations of our Title II advocacy with a focus on compiling case studies of the effective use of professional learning as well as the data to support these stories. Stay tuned for the "Powered by Title II" campaign that we will launch in the next few weeks and be ready to help make the case for why professional learning has never been more critical. More information coming soon!
Melinda George
(melinda.george@learningforward.
org) is chief policy officer at Learning
Forward.
Evidence, evidence, evidence
Evidence of impact is not optional. From your ESSA plans to Title II to talking with your district superintendent, everyone wants to know when professional development is making an impact and how you know. Learning Forward is here to help. We invite you to join your peers from across the U.S. to share your successes here.
Tell us what Title II funds in your school or district, and most important, what outcomes you see as a result. Outcomes might include improved graduation rates or assessment scores, improvements for specific populations of students, or other indicators that students are experiencing more meaningful learning.
ESSA Toolkits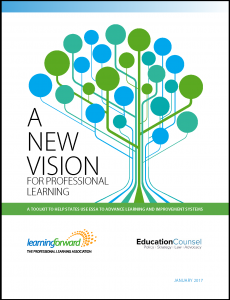 A New Vision For Professional Learning: A Toolkit to Help
States Use ESSA to Advance Learning and ImprovementSystems. This toolkit helps leaders leverage professional learning as
an essential tool in overcoming systemic inequities and guaranteeing
excellence for all.
Agents for Learning Toolkit: A Guide to Amplifying Teacher
Voice and Stakeholder Engagement. This toolkit suggests ways to cultivate teacher voice and agency in policy decisions and the implementation of professional learning.
Webinar series: Speak up for Title II
Learning Forward hosted a series of advocacy webinars designed to help educators build their advocacy skills. Each free webinar provides background information, the legislative status of Title II, and offers practical steps for how you can engage in this critical fight.
The highlights The Senate is moving forward with a FY 2022 funding appropriation bill that includes the Department of Education. It will be a critical piece of the negotiations. The House bill contains a $150 million increase for Title II-A while the Senate bill contains only a $50 million increase. Learning Forward and its stakeholders […]
Read more

→
The last couple of weeks saw some progress on Capitol Hill, but mostly it was about pushing the spending battles off until December. At the end of September, the House and Senate came to agreement on a continuing resolution to temporarily fund the government and avoid a government shutdown. The resolution allows funding of the […]
Read more

→
Learning Forward Advocacy
I love the emphasis on advocacy for our field – the sample templates Learning Forward shares to communicate with state reps regarding policy, the up-to-date info about policy and legislation that could impact our field. I also really appreciate that Learning Forward is the standard-bearer for professional learning standards and provides a framework that supports calibrated understanding of […]
The policy updates are, for me, one of the most valuable assets of Learning Forward.
Join our Affiliate community
Stay apprised of federal and state activities and be part of our inner circle of policy advocates.