Learning Forward Advocacy
Congress Gets Back to Work – Title II-A Faces Big Challenges
Congress is now fully back from its August recess – and it is facing a mountain of work. Its first task will be to pass a Continuing Resolution (CR), a temporary spending measure that will keep the government operating beyond October 1, when the new fiscal year begins. The nation is in this predicament because Congress has not and likely will not be able to pass any of the twelve separate Fiscal Year 2024 appropriations bills that fund federal government agencies and program owing to funding disagreements and controversial policy riders. Just getting a short-term CR of two to three months done is shaping up to be a heavy lift. House conservatives are demanding deeper cuts to federal spending in exchange for their votes on a CR, something which Senate Democrats and the White House oppose. Resolving this impasse will be the federal government's focus in September.
Meanwhile, the House and Senate will try to make progress on passing and even negotiating the final versions of the Fiscal Year 2024 funding bills. The central challenge to moving these is the stratospherically different overall and individual program funding levels that the House and the Senate Appropriations Committees have advanced. For example, the House Appropriations Subcommittee's proposed funding level for the US Department of Education is more than $20 billion below what its Senate counterpart has approved and what Congress itself passed last year. Amongst other cuts, the House version would eliminate Title II-A entirely, as well as cut Title I by 80%. The Senate version maintains funding at last year's levels for most programs – including Title II-A.
Learning Forward is working hard to preserve at least level funding for Title II-A, as the Senate Appropriations committee has already agreed to do. But we will need the help of everyone in the Learning Forward community to weigh-in for their Members of Congress on the value proposition of federal spending on professional learning, particularly in terms of learning recovery and student achievement. If we do not succeed, our students, schools and fellow educators will face tough budgetary decisions next year.
Call to Action - Save Title II-A
Members of Congress will return after Labor Day and appropriations and continued funding to keep the government open are going to be the issues front and center for every member of Congress. Now is not the time to be complacent. We need to remain vigilant in our efforts to save Title II-A. On July 18, Fred Brown issued a call to action to all educators to help save Title II-A. If you are reading this message, please take a moment to send a message to your members of Congress. Press the blue button below to get started.
Learning Forward Advocacy
Both the House and Senate are continuing their fitful efforts to complete action on their versions of the 12 fiscal year 2024 Appropriations bills. The Labor, Health and Human Services, Education spending bill, which contains funding for all federal education programs including Title II-A, has not yet been brought to the floor in either chamber, but new House Speaker Mike Johnson, a Republican from Louisiana, is aiming to have the House version of that bill debated and passed the week of November 13. A recently released House draft of that bill shows that the House continues to push for the elimination of Title II-A.
This week, Speaker Johnson is developing a plan to keep the government operating past November 17, when the current temporary budget expires. Reports indicate that he is considering three options:
Passing a temporary budget that continues all program funding at last year's levels until January 15, 2024;
Passing a temporary budget until January 15 which would include a 1% across-the-board cut for all programs except U.S. Department of Defense programs; and
Passing a temporary budget that establishes different expiration dates for each of the 12 spending bills. Both the 1% across-the-board cut and the varying deadlines proposals are likely non-starters for the Senate and the administration.
Even if Congress manages to prevent a government shutdown later this month, it still seems no closer to agreeing on final spending for fiscal year 2024. The House and Senate versions of the 12 spending bills remain light years apart in terms of funding levels. Additionally, many of the House bills contain poison pill provisions on hot-button topics like abortion and immigration that the Senate and the administration will not accept. For example, the latest version of the House's Labor HHS Education bill included a provision that requires all K-12 schools to ban transgender student participation on sports teams that do not match their gender, with the penalty being the termination of their federal education funding.
Learning Forward continues to work to bolster support for continued federal education investments in professional learning. Please stop by our advocacy booth at our 2023 Annual Conference, Dec. 3-6, Washington, D.C., to learn how you can contribute to our efforts.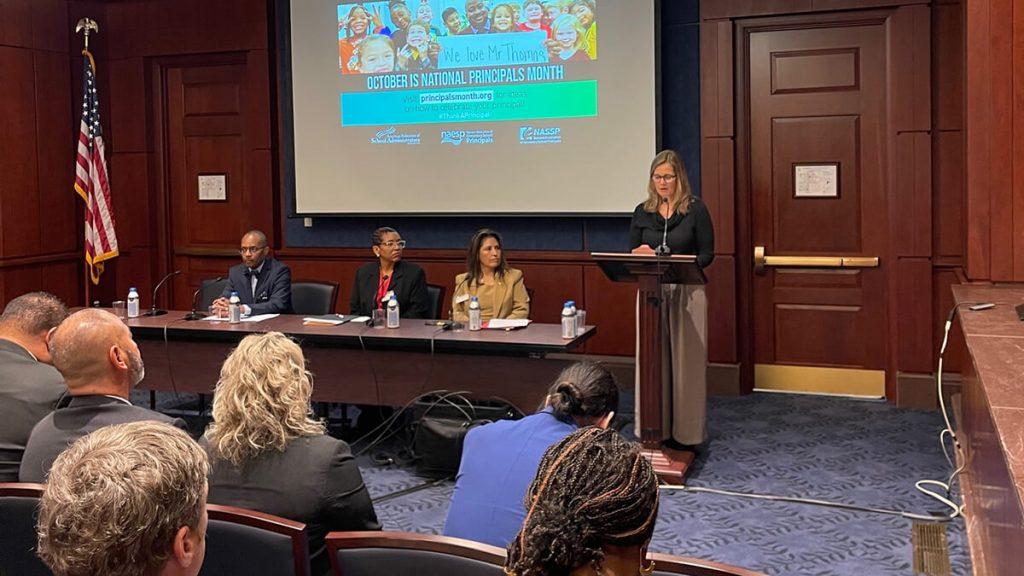 October is National Principals Month, and Learning Forward is thrilled to recognize how important principals are for students and communities. Research tells us that effective principals have a sizable impact on student achievement through instructional leadership, school climate, staff support, family engagement, and other pathways. Those improvements in achievement ultimately result in returns to communities and society as a whole.
But principals also play vital roles outside their own schools, at the levels of state and federal policy. Principals are knowledgeable, trustworthy experts on the ground, who know what schools need in order for students to thrive. Their voices carry real weight.
Now is an especially important time for all of us to listen to the voices of principals, with national education funding at risk in 2024. Over the summer, the House Appropriations Subcommittee on Labor, Health and Human Services, and Education proposed deep cuts to many federal education programs that are cause for grave concern for everyone in the U.S. – whether they currently have a child in school or not.
The proposed cuts include:
Title I: 80% cut to funding
Title II-A: Full elimination
Title III: Full elimination
28% cut to education funding overall
Title I provides financial support to schools that support America's most disadvantaged students, who tend to start school without many of the material advantages that boost school success. An 80% cut to Title I would mean that approximately $4 billion would flow to schools and districts rather than $19 billion.
The proposed full elimination of Title II-A, the Supporting Effective Instruction State Grants program, would mean that there would be no federal funding provided for preparing, training, and recruiting high-quality teachers, principals, and other school leaders. Last year, Title II-A received $2.19 billion. Eliminating the program would mean schools lose money they have been counting on to cope with teacher shortages and help teachers support students' needs as they continue to recover from the pandemic. Fortunately, the Senate doesn't agree with these cuts and is prepared to provide the same funding for next year as last year. But it's not a done deal, and we need to keep making the case for these funds.
Title III, the English Language Acquisition Formula Grant Program, is in the same place as Title II. This program was established to improve academic instruction for English Learners — a rapidly growing population in the United States before the recent immigration from the nation's southern borders exploded. An $890 million program in fiscal year 2023, the Senate would provide it a small $7 million increase in fiscal year 2024 while the House would zero it out.
And principals are sounding the alarm. Principals know that these cuts would be disastrous. Principals are tasked with personnel and resource allocation at the school level, helping to ensure the educators with whom they work receive high-quality professional learning to be at their best for students, and dealing with the fallout of teacher shortages and underprepared staff. They are also the ones who are constantly looking at student data and into students' faces, seeing how our society's investments pay off – or how lack of investments cause harm.
Last week I led a discussion with three current and former principals participating in a National Principals Month policy briefing on Capitol Hill to get their perspectives on what Title I, Title II-A, and Title III programs have meant to their work and what it would look like if we no longer had federal funding for these programs.
These leaders were unequivocal about the positive impact of these programs on their students and the devastating impacts their schools and students would experience if program funding is gutted. Efforts to recruit, hire, and retain effective educators will falter, they said. Student learning acceleration will stall, they warned. And all of these impacts would hit students from families with the fewest resources the hardest.
Kevin Armstrong is a 27-year educator and principal of DuPont Hadley Middle School in Old Hickory, Tennessee, who recently began a one-year term as president-elect of National Association of Elementary School Principals. Armstrong said the Title II-A funds his school receives allows it to offer year-round professional learning, including a literacy coach and a math coach – and those investments are making a measurable impact. From Title II-A funds, "we have definitely seen an increase in achievement" he said, adding that these are gains they did not see "two to three years ago." He said that "preliminary data shows that we have at least a 5% increase in our ELA data, and possibly as high as an 8% increase in math" in 2022-23.
At Learning Forward, our federal advocacy focus is Title II-A, which supports professional learning for approximately 2 million K-12 teachers and also allows states to set aside upwards of 3% of funds received to conduct specialized professional learning for principals and school leaders.
The U.S. Department of Education just released a report on how states and school districts used their Title II-A funds in the 2021-22 school year. The vast majority of these funds flow to teachers, but principals and school leaders do receive a significant share of these dollars. One major finding in the report: 75% of districts reported using the funds for professional development for teachers, and 56% of districts reported funding professional development for principals and other school leaders. On average, school districts expended 18% of their Title II allocations on principals and other school leaders.
The vast majority of activities were types of professional development, including tailoring professional development to individual teacher or leader needs (81%) and induction or mentoring programs for new teachers and leaders (70%). It's important to note that these are sustained, long-term, high-quality forms of professional development. This August 2022 article from The Learning Professional describes why new teacher mentoring is essential and this article and this infographic illustrate the impact.
On the optional 3% state set aside, the report finds that 25 states reserved these funds to support school leaders, and 19 states reserved the maximum allowable.
I recommend all school, state, and district leaders dig into this report to get a full picture of state and district spending on Title II-A. We need to be armed with facts and ready to tell compelling stories of impact, such as the one Kevin Armstrong tells about improvements at DuPont Hadley Middle School.
Learning Forward is collecting Title II-A stories in districts around the country. We would love to meet with you at our upcoming 2023 Annual Conference, Dec. 3-6, to learn about your use of Title II-A funding and to help you craft your impact story. If you or others in your district would be interested, please sign up here. We look forward to meeting with you and helping your voice be heard!
At Learning Forward, we stand with principals in calling for Congress to fully fund the programs that make a difference for student achievement. As we celebrate principals and thank them for all they do, we urge Congress and all Americans to support them by providing the funding principals and other educators rely on to ensure that every child succeeds.
Learning Forward's Powered by Title II campaign website puts all of the information, tools, and advocacy tutorials in one easy to access online location to enable educator advocates reach their Members of Congress and help convince them to support more Title II funding. On this site, advocates will find:
The latest news on Title II
Background facts, stories, research, and data on Title II
A storytelling tool to assist you in researching and explaining how Title II supports your school district
Sample letters, talking points, tweets and more to support your advocacy
Evidence, evidence, evidence
Evidence of impact is not optional. From your ESSA plans to Title II to talking with your district superintendent, everyone wants to know when professional development is making an impact and how you know. Learning Forward is here to help. We invite you to join your peers from across the U.S. to share your successes here.
Tell us what Title II funds in your school or district, and most important, what outcomes you see as a result. Outcomes might include improved graduation rates or assessment scores, improvements for specific populations of students, or other indicators that students are experiencing more meaningful learning.
ESSA Toolkits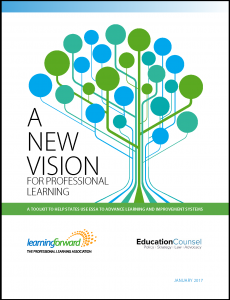 A New Vision For Professional Learning: A Toolkit to Help
States Use ESSA to Advance Learning and ImprovementSystems. This toolkit helps leaders leverage professional learning as
an essential tool in overcoming systemic inequities and guaranteeing
excellence for all.
Agents for Learning Toolkit: A Guide to Amplifying Teacher
Voice and Stakeholder Engagement. This toolkit suggests ways to cultivate teacher voice and agency in policy decisions and the implementation of professional learning.
This webinar, originally created for our Virtual Advocacy Day, includes advocacy strategies and tips that are applicable to any advocacy effort. Watch to hone your skills, build confidence, and get excited about being an advocate.
By |
I remember when my kids were little and they wanted my attention, they would get increasingly louder and more persuasive until they succeeded in drawing my attention away from whatever […]
Read more

→
By |
The fight over the federal debt ceiling and deficit reduction took an ominous turn for educators last week with the U.S. House of Representatives' passage – on a razor-thin 217-215 […]
Read more

→
I love the emphasis on advocacy for our field – the sample templates Learning Forward shares to communicate with state reps regarding policy, the up-to-date info about policy and legislation that could impact […]
The policy updates are, for me, one of the most valuable assets of Learning Forward.
Join our Affiliate community
Stay apprised of federal and state activities and be part of our inner circle of policy advocates.