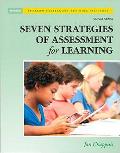 Learning is an unpredictable process and instructional correctives are part of the normal flow of attaining mastery in any field. If we are still teaching as though "plan, instruct, and assess" will cause learning, or if our pacing guides are designed on the basis of that belief, we will miss the heart of teaching and the whole intent of formative assessment. Many of our inherited assessment practices fight with our desire to build an effective "feedback loop" into instruction. in this webinar, author Jan Chappuis examines those practices and suggests ways to change them.
Log in below or join to access additional webinar resources and slides. Jan Chappuis has been an elementary and secondary teacher as well as a curriculum developer in English language arts, mathematics, social studies, and world languages. For the past 20 years, she has written books and developed workshops focused on classroom assessment literacy. Chappuis is the author of Seven Strategies of Assessment for Learning, (Pearson, 2014, 2nd ed.) and co-author with Rick Stiggins, Judith Arter, and Steve Chappuis of Classroom Assessment for Student Learning: Doing It Right-Using It Well (Pearson, 2012, 2nd ed.).