With the prevalence of anxiety, depression, and loneliness increasing among young people, social and emotional well-being is a major priority for teachers and students this year. There are many ways for educators to address these needs, but one stands out in surveys of youth: communication.
Check out this #LearnFwdTLP infographic to understand the #SEL needs of students.
Click To Tweet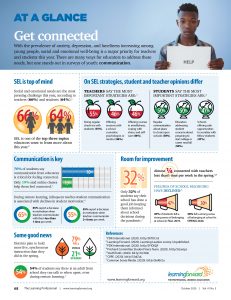 Download PDF here.
---
---
Learning Forward is the only professional association devoted exclusively to those who work in educator professional development. We help our members plan, implement, and measure high-quality professional learning so they can achieve success with their systems, schools, and students.
---