Educators across the world are being asked to implement online learning for their students as school systems close in response to COVID-19. Join this webinar to learn about strategies and to link to resources that will make online learning manageable and productive.
In this webinar, we will hear from DeNelle West, the Chief Learning Officer and Teshon Christie, the Executive Director of Organizational Effectiveness of Kent School District in Washington State. They will share their strategies for supporting instruction by leveraging technology tools and partnerships.
We will also hear from Tricia Kennedy, the Executive Director of Instructional Development and Support for Gwinnett County Public Schools, in Georgia. Tricia and her team are supporting 180,000 students who are now fully online but they have been supporting digital learning throughout the district at an accelerated rate for the past two years so she has many learnings to share.
Finally, we will gather insights on state perspectives on digital learning from Christine Fox, the Deputy Executive Director of the State Education Technology Directors Association (SETDA). SETDA has been a leader in helping states to craft policies that help to set enabling conditions for online learning as well as providing a community of support for state leaders in charge of these efforts.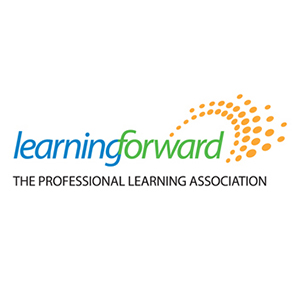 Learning Forward is the only professional association devoted exclusively to those who work in educator professional development. We help our members plan, implement, and measure high-quality professional learning so they can achieve success with their systems, schools, and students.
Additional resources:
Presenters:
Christine Fox, Deputy Executive Director, State Educational Technology Directors Association (SETDA)
Fox collaborates with the Executive Director in charting strategic direction, administration, planning and financial decisions involving SETDA. She also facilitates the members' professional learning opportunities including planning and implementing the content for SETDA's virtual and in-person events and newsletters. In addition, she manages many of SETDA's research and product development projects from conception to publication.
DeNelle West, Chief Learning Officer, Kent School District, Kent, Washington
West supports Curriculum and Instruction, Special Education, Career and Technical Education, and English Language Learning programs. Prior to joining KSD, she served as the Director of Professional Development at Research for Better Teaching, in Acton, Massachusetts. Research for Better Teaching is a leading organization in guiding the professional growth of teachers and leaders on the use of highly effective research-based practices. West has served in public education for over a decade helping to influence the lives of students and the practice of teachers and leaders across the country.
Teshon Christie, Executive Director of Organizational Effectiveness, Kent School District, Kent, Washington.
In this role, Christie is the executive leader for the Data Services, Assessment, Research, Technology & Strategy teams. He earned his Certified Educational Technology Leader certification through the Consortium for School Networking (CoSN) in 2015. Additionally, Teshon serves on CoSN's Digital Equity Advisory Board, Microsoft's K-12 Advisory Board, and contributed to CoSN's 2020 Driving K-12 Innovation report.
Tricia Kennedy, Executive Director of Instructional Development and Support, Gwinnett County Public Schools, Gwinnett County, Georgia
In this role, Kennedy facilitates the cross-divisional development and implementation of eCLASS, a digital content, learning assessment and support system. The objective of the eCLASS initiative is to provide all Gwinnett teachers and students with access to digital content and resources that expand the walls of the classroom and engage students in meaningful learning experiences, anytime, anywhere. Prior to launching eCLASS for the district, Kennedy served for several years as Gwinnett's executive director of curriculum and instruction, overseeing the district's curriculum development and instructional programming.