This collaborative work, supported by the Bill & Melinda Gates Foundation, impacted the professional practices of participating systems. Several are continuing in the next phase of the work as part of the Student Success Learning Network.

As educators, we know what works to improve teacher practice, but we have struggled to achieve results at scale. Impact of professional development on teacher practice or student outcomes is not well understood, and professional learning is often incoherent or "diluted" across too many priorities to have sustained benefit.
​
Seeking an innovative new approach to these challenges, Learning Forward launched the Redesign PD Community of Practice to support 20 of the nation's leading school districts and charter management organizations in addressing systemwide educator and student
learning priorities.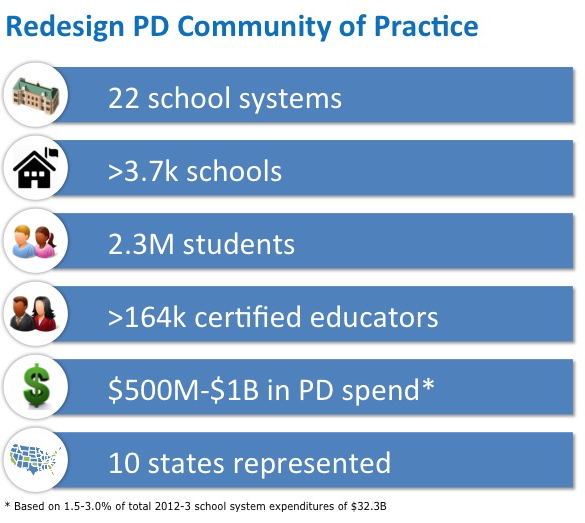 The community engaged teams from these districts in identifying their local professional learning challenges and creating scalable solutions. The community provided focus, guidance, and shared accountability to the participating systems to make dramatic improvements to their professional development systems.
Learning Forward served as the facilitator and coordinator of the community, focusing work around a cycle of inquiry around which face-to-face and virtual convenings and support for district teams is anchored. Learning Forward guided participating systems through continuous improvement cycles to improve how they manage professional learning.
Further, Learning Forward captured and published lessons learned and tools from the community to share with the broader field of education, especially to Learning Forward's more than 50,000 members and stakeholders.
Collectively, systems participating in the Community of Practice employed more than 160,000 certified teachers and enroll 2.3 million students, more than 5% of the public school students in the country.
​
---

Shared problems of practice: 
Each participating system has committed to making dramatic progress on one of two problems of practice by mid-2017. These include:
​
​How to strengthen the measurement of the impact of PD on teacher practice and make decisions based on these measures
How to increase the coherence and relevance of PD, such that teachers experience PD as useful, timely, and relevant to their classroom practice, and abandon those initiatives that distract or dilute teachers' focus. ​
Learn more about the Cycle of Inquiry guiding the work of the community.​
Learn more about the community's problems of practice.
See the participating systems in the Redesign PD Community of Practice.
---
Learning Forward's Redesign PD Community of Practice is supported by the Bill & Melinda Gates Foundation.
Redesign PD Community Resources
Contact Us For More Information