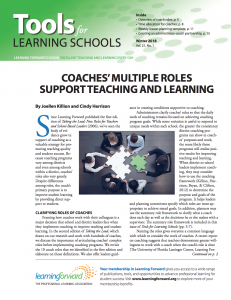 We look at an overview of coach roles, time allocation, weekly lesson planning, and administrator-coach partnerships.
By: Sarah Young  A white colleague recently asked me, "Sarah, why do we need culturally responsive coaching? Isn't it just good coaching to be responsive to everyone?" I had to give some thought to how I framed my response. The crux of the answer is, "No, it's more complex than that," as is the answer…
On January 23, Learning Forward hosted a Twitter chat to discuss building equity through instructional coaching with special guests Tonikiaa Orange, director of the Culture and Equity Project at UCLA, and Jo Ann Isken, director of the UCLA IMPACT Urban Teacher Residency Program. They wrote the article "Coaching for equity," based on their work creating…
A survey of U.S. educators leads to insights on how to improve coaching's effectiveness.
Many of us have been lucky enough in our lives that we can identify someone we'd call a mentor, someone who taught us how things work and helped us navigate through the difficulties we face trying to establish ourselves. For some of us, our mentor may very well have been a teacher, but what about…
Instructional coaches are a trusted source of support for teachers and leaders, and that support is needed now more than ever. Every educator is navigating uncharted territory due to the Coronavirus, with varying levels of readiness for distance learning and a heap of other questions about how to meet students' multi-faceted needs. Coaches are poised…
On March 31, Learning Forward and featured guest Melissa Ellegood of Yuma Union High School District led a conversation on how instructional coaches can support educators – and take care of themselves –  during this stressful time. This chat was based on an interview with Learning Forward senior consultants Eric Brooks, Heather Clifton, and Sharron…
By Andrew J. Wayne Ten years ago, I met a researcher who was proud but frustrated. His randomized controlled trial published the year before had found a positive impact on student achievement from a whole-school reform model. But he was vexed: Why don't districts now adopt this model? Today, that problem is relevant for teacher…
By Ebony Flott and Courtney Simpson With many schools closed for the rest of the academic year, instructional coaches and other leaders have wondered how to support teachers remotely. In an April 23rd webinar hosted by Learning Forward, Ebony Flott and Courtney Simpson, instructional coaches in Gwinnett (Georgia) County Public Schools, explained how they are…
By Laura Baecher Observation and reflection are essential for improving teaching practice, even now that most teaching is occurring online due to the COVID-19 pandemic. Fortunately, with the increasing popularity of video observation and coaching, we already have a tool that can be used for this purpose during distance learning. When video-based observation is successfully…