The winner of the Learning Forward Foundation's Learning System Grant, Hartford Public Schools, is focused on creating an innovative, comprehensive learning system that engages in a thoughtful cycle of continuous improvement.
The challenge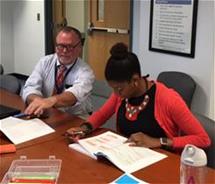 Grant writer Sarah Diggs acknowledges that the major challenges they are poised to address include shifting the district's culture to value adult learning as a critical lever of improving student outcomes; increasing knowledge of the principles of adult learning and the Standards of Professional Learning; and increasing the capacity of professional learning facilitators at all levels.
Hartford began their transformation process by watching the video story of Ford Middle School in Allen, Texas to get clear on what a learning system is and how it uses data to inform educators' learning and students' learning.
Then it was time to come together and ask the tough questions: In what ways can we lead, facilitate, and coach other district and school leaders to
Apply the principles of adult learning and the standards for professional learning to engage communities in the cycle of continuous improvement;
Create and implement a responsive systematic learning system that supports schools/teams/leaders in real time; and
Model, facilitate, and use multiple professional learning designs?
SMART goals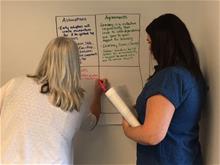 The team moved from asking the tough questions to identifying their SMART goals through the facilitation of Kay Psencik, their coach, who led them through a structured process to identify their goals. The Hartford Public Schools' team's journey to reach their commitments included:
A pre-session and full day session to engage the team, refocus them on the work and the goals after the start of school, and reenergize everyone;
District leadership team and school leaders completing a KASAB;
Observing a learning community in a school using their new understandings of a learning system;
Reflecting on their observations and considering the implications of what they learned on their work; and
Creating the SMART goals.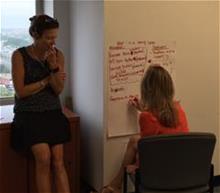 In pursuit of their SMART Goal of becoming an innovative and comprehensive learning system that engages in a thoughtful cycle of continuous improvement by the end of June 2020, Hartford Public Schools learning leaders have committed to doing some things differently:
Collaborate authentically;
Advocate for professional learning;
Learn together;
Value and build on work that has been done;
Own our own learning; and
Emulate the way we want to run meetings – we are a learning community.
Leader Sarah Diggs was excited to report that the August professional development on learning systems meant that start of the school year in September came with "a renewed spirit for professional learning and it really launched a different, hopeful, optimistic attitude!"
In this fall football season, the parallels between the educators of Hartford Public Schools and the famed Harbaugh brothers are striking: they are all attacking every day with an enthusiasm unknown to mankind. The Learning Forward Foundation can't wait to see the rest of the journey to 2020 with Learning System Grant Awardee Hartford Public Schools!
Learning Forward Foundation Scholarships
The Learning Forward Foundation scholarship contest encourages educators to put their good ideas into action and apply their research and creativity to impact education's most profound challenges. Learn more or donate to the Learning Forward Foundation scholarships and grants.