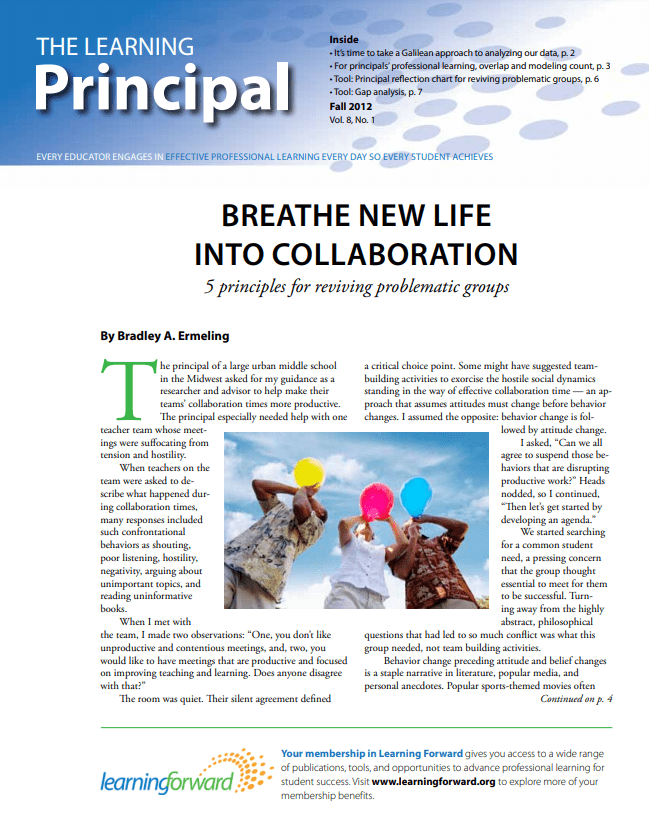 Breathe new life into collaboration: 5 principles for reviving problematic groups
By Valerie von Frank
From passive resistance to direct pushback, the most effective way to turn resistance into useable energy is through skillful communication. Read how principals who become expert communicators can add valuable tools to their toolkit.
Tool: The facilitator's role
Use this tool to help you and other leaders understand the roles and typical responsibilities of facilitators. You might use these suggestions to create a job description and responsibilities, to help leaders understand needed facilitation tasks, or to provide information when requesting funding for a professional learning team facilitator.
Advancing the standards: Leaders in a learning system
By Frederick Brown
Principals create the conditions for effective teaching and learning that is scaled throughout their buildings and sustained over time. See what a learning system looks like from the perspective of a school leader.
In practice: Identifying problems of practice leads to cultural changes and student success
By Rachel Blundell
Last summer, Santa Fe Junior High (Texas) joined Learning Forward\'s Learning School Alliance with the goal of helping learning communities function better and increase their depth of learning. This summer, they received their state test scores and every grade level and subject saw gains.