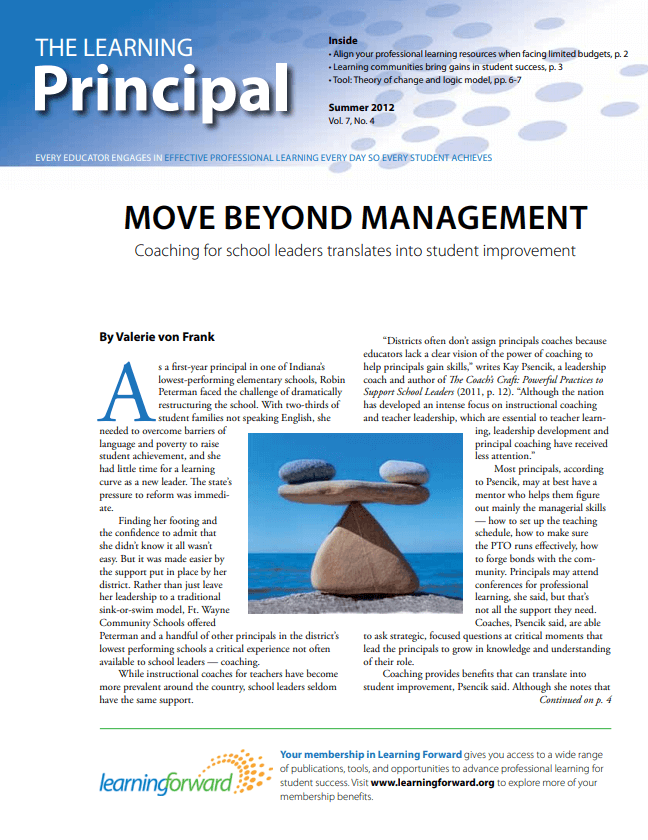 Move beyond management: Coaching for school leaders translates into student improvement
Despite an intense focus on instructional coaching and teacher leadership, little attention is paid to principal coaching and its role in leadership development. Read how coaching for principals translates into student success and how it helped one principal gain confidence and reduce stress during her first year.
By Valerie von Frank
Advancing the standards: Align your professional learning resources when facing limited budgets
When resources are limited and calls to trim the budget are made, how should school leaders respond? See how much of what we need is at our fingertips and how to harness it effectively in order to avoid repeating past mistakes. (Available to the public.)
By Frederick Brown
In practice: From 60 course failures to 4: Learning communities bring gains in student success
Brian M. Stack, principal at Sanborn Regional High School, Kingston, N.H., has transitioned his school to competency-based grading and reporting. Read how learning communities helped facilitate this philosophical and procedural change. (Available to the public.)
By Anthony Armstrong
Tools: Theory of change and logic model
Use these tools to develop a shared vision and goals to help your organization move from its current condition to its desired outcome, and define the essential steps and possible challenges that may arise.
Presentation for sharing
Want to share the learning? After you read the article, use this presentation to share what you have learned with your team or colleagues.