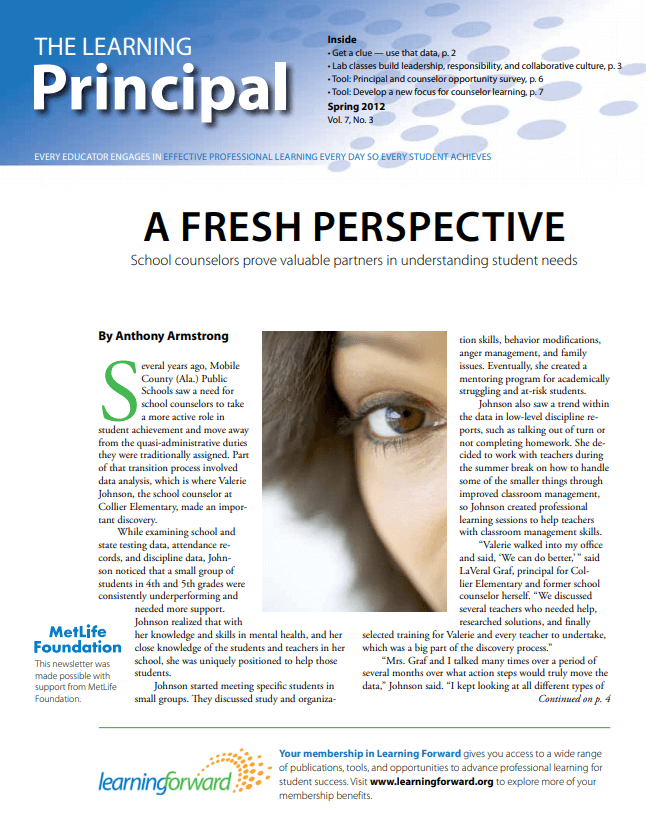 A fresh perspective: School counselors prove valuable partners in understanding student needs
According to the newest MetLife Survey of the American Teacher, 64% of teachers are reporting seeing an increase in the number of students and families needing health and social support services, while 28% of teachers have seen reductions or eliminations of those same services. As a result, schools may be faced with redefining their school counselors' roles by necessity, and in the process may find better ways to leverage the counselors' contributions to teachers and to student achievement.
By Anthony Armstrong
Tools: Principal and counselor opportunity survey and Develop a new focus for counselor learning
Use these tools to discover opportunities to expand counselors' contributions to student success, generate dialogue, and analyze and reflect on student data.
Advancing the standards: Get a clue -- use that data!
Discover how using data can be like playing a board game, but one rule needs to change in order for students to win.
By Frederick Brown
In practice: Lab classes help build leadership, collective responsibility, and collaborative culture
Read how one school created lab classes that model literacy and math instruction and create teacher leaders.
By Anthony Armstrong
Presentation for sharing
Want to share the learning? After you read the article, use this presentation to share what you have learned with your team or colleagues.