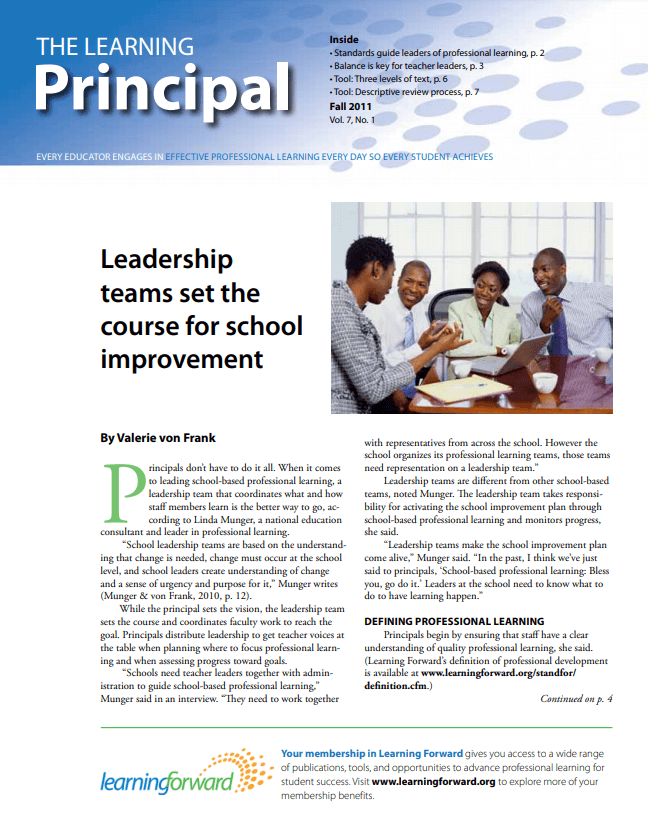 Leadership teams set the course for school improvement
While the principal sets the vision, a good leadership team can set the course and coordinate faculty work to reach the goal. Learn how principals distribute leadership to bring teacher voices into professional learning planning and assessment.
By Valerie von Frank
Advancing the standards: Poof! Everyone's effective!
Read how the newly released Standards for Professional Learning outline a reality-based relationship between professional learning, effective practice, and student results. (Available to the public.)
By Frederick Brown

In practice: Balance is key in leading, learning, and letting go
Lisa McColl, principal at Rio Seco, a K-8 school in Santee, Calif., shares how her school used professional learning to boost the results of her middle-level students. (Available to the public.)
By Anthony Armstrong

Tools: Three levels of text and Descriptive review process
Use these tools to expand thinking about a text and to learn collaboratively from student work.