On November 16, 2019, Learning Forward hosted a Twitter chat to discuss how to bridge the gap on instructional mismatch with experts Sarah Quebec Fuentes, associate professor of mathematics education, and Jo Beth Jimerson, associate professor of educational leadership at Texas Christian University.
The chat was based on their article in the October issue of The Learning Professional, "Tackling Instructional Mismatch." Instructional leadership is at the core of what effective school leaders do. But much of the time, leaders are working in a context of instructional mismatch, leading in content areas or grade levels unfamiliar to them.
Guests and participants shared some of their most pressing challenges that they face as instructional leaders, resources that help build their leadership content knowledge, and strategies to overcome instructional mismatch. In case you missed it, you can view the full chat using #SatChat on Twitter, view the archived version of the chat here, or check out the recap of the chat below.
To be notified of future Twitter chats, follow us on Twitter @LearningForward and #LearnFwdTLP.
Let's get started with question 1: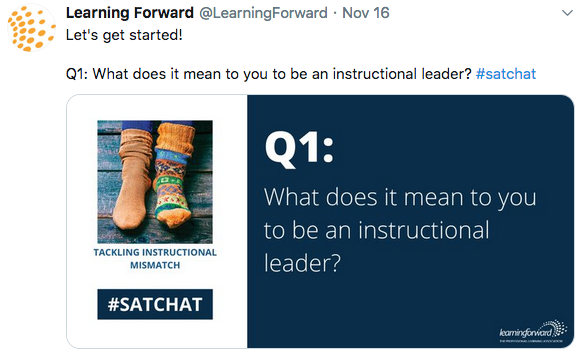 Co-hosts Jo Beth Jimerson and Sarah Quebec Fuentes answered question 1 with the following:
Elaine Margarita from New Jersey answered the first question with some great points:
Carla Meyrink from the Dominican Republic made the notion of constant research:
Lee Araoz from New York gave us a list of what it means to be an instructional leader with the following: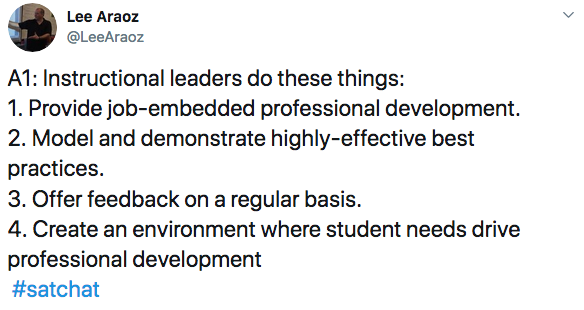 Co-hosts Sarah Quebec Fuentes and Jo Beth Jimerson had the following answers to question 2:
Instructional coach Penni Arner said one of her most pressing challenges is motivating others:
While Nathan Stevens from North Carolina brought an interesting challenge to the table with the following:

Co-hosts Jo Beth Jimerson and Sarah Quebec Fuentes answered question 3 with the following: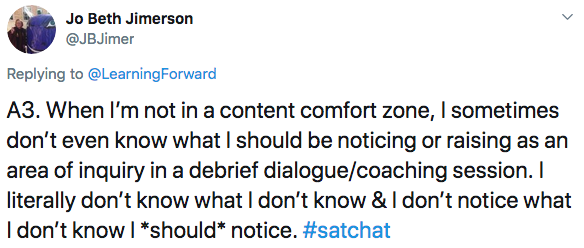 Answering the third question, Gina Fugnitto from Florida highlighted the importance of being student-centered: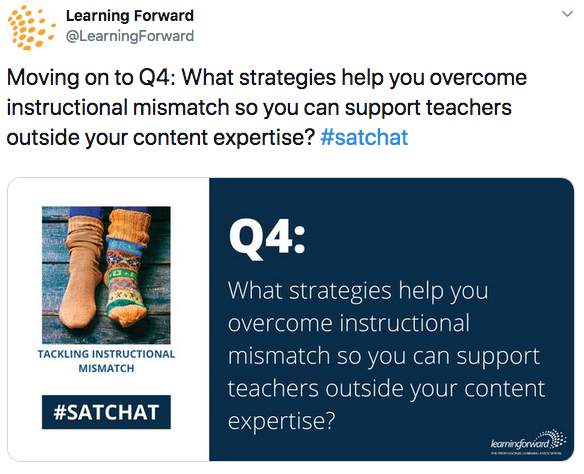 Co-hosts Fuentes and Jimerson answered question 4 with the following:
Pam Hubler from South Carolina and Kathy Schmitt gave interesting answers to question 4: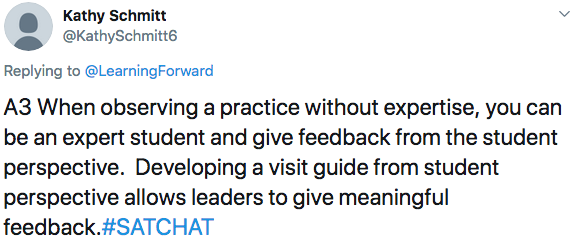 Answering question 4, Math teacher Travis Scott, highlighted the content knowledge that's already in the building:


Co-hosts Jimerson answered question five with the following:
David Culberhouse from Southern California answered the fifth question with the following:
Click here to view the full list of resources.
This chat was full of great contributions! Many participants said this was a topic they hadn't considered before but found very relevant; there was a lively debate about whether "good teaching is just good teaching," or whether school leaders should have content expertise.
Thank you to our co-hosts and participants. We hope you found some of these insights and real-world examples from educators helpful.
To be notified of future Twitter chats, follow us on Twitter @LearningForward and #LearnFwdTLP.
Ariel Durham is the digital marketing program manager at Learning Forward. Her work involves Learning Forward's website, email, webinars, and social media to advance Learning Forward's mission, vision, and strategic priorities. Her background is in media and public relations, writing, internal corporate communications, and digital marketing. Ariel received her bachelor's degree in communications at The University of Louisiana at Monroe and received her master's degree in marketing at the University of Texas at Dallas. A native of Dallas, Texas, but currently lives overseas with her husband most of the year, Ariel is passionate about using Learning Forward's global reach to remove inequities in schools so all students experience meaningful learning.