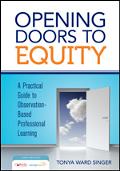 In this webinar, author Tonya Ward Singer issues a call to action, focused on observation-based professional learning that elevates teaching practice.
Sharing strategies from her book, Opening Doors to Equity: A Practical Guide to Observation-Based Professional Learning, Singer will lead a discussion of how to bring team observation into the classroom to test, refine and transform instruction so that students of all backgrounds achieve. Learn a flexible design for leading teacher teams in continuous inquiry around live lessons, and gain strategies for centering instructional conversations on developing students' skills for college and career success, including hard-to-assess skills.
Topics in this webinar include:
An overview of a learning design for using observation of live sessions as the centerpiece of continuous inquiry.
An overview and modeling of an observation and debriefing protocol.
Video clips of teams implementing effective observation strategies.
Log in below or join to access additional webinar resources and slides. Tonya Ward Singer is a professional learning leader, speaker and author who consults nationally to help K-12 schools close opportunity gaps. Tonya has extensive experience engaging educators in courageous collaboration to deepen their impact on all students. She thrives on leading the edge of new learning, and inspiring others to do the same. Her website is www.tonyasinger.com.