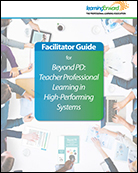 This resource suggests ways for unpacking and applying findings from the study to assist education leaders, policy makers, and decision makers in improving the quality of professional learning in schools. With more than 35 tools, the guide offers multiple entry points into the latest knowledge from the field, focusing stakeholders on practical implications and next steps.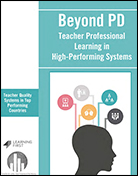 A new study, Beyond PD: Teacher Professional Learning in High-Performing Systems, provides evidence that continuous professional learning deeply embedded into the framework of schools is fundamental to student success. The study examines teacher professional learning practices and identifies common patterns across four high-performing school systems: Singapore, Shanghai, Hong Kong, and British Columbia.
Learning Forward has created resources to help educators in a range of roles explore the findings in the study and consider implications for policy and practice.
Webinar: Beyond PD: Teacher Professional Learning in High-Performing Systems
Presented by Ben Jensen and Facilitated by Joellen Killion
This on-demand webinar features the lead researcher for the study offering an overview of the study's findings and implications for professional learning.
Blog: Lessons from Abroad on Improving Professional Learning
Killion's blog post shares highlights from the Beyond PD study and focuses on the common attributes of professional learning identified in high-performing systems around the world.
About the Authors

Ben Jensen is the CEO of Learning First, a not-for-profit organization focusing on improving school education, while also operating a consultancy arm. Jensen was director of the school education program at the Grattan Institute from 2009-2014. Prior to joining Grattan Jensen worked at the OECD Directorate for Education for five years where his work focused on school improvement, teacher effectiveness, and how to measure school performance.
Joellen Killion is the former deputy executive director for Learning Forward. She has continued her relationship as an advisor to the organization. Killion has extensive experience in professional learning planning, design, implementation, and evaluation at the school and system levels.