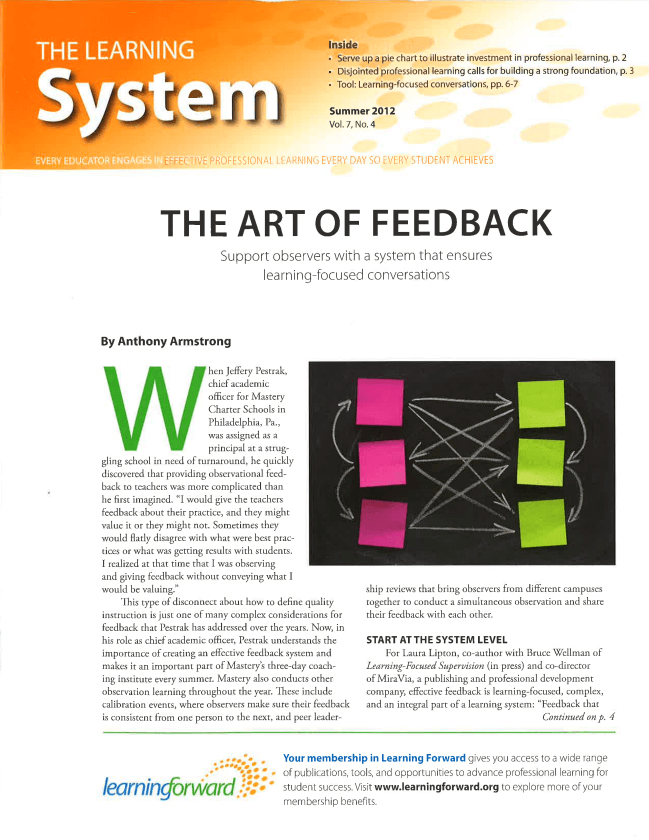 The art of feedback: Support observers with a system that ensures learning-focused conversations
Feedback conversations are often sources of anxiety that can hinder the learning and improvement process, so how the feedback is delivered is as critical as what is being delivered. Learn how to turn givers and receivers of feedback in your system into growth agents who explore and improve practice through data-driven, inquiry-based conversations.
By Anthony Armstrong
Tools: Learning-focused conversations: A template for planning and A template for reflecting
Feedback is the beginning of a conversation that explores and improves practice. Use these conversation templates to help shift your culture through data-driven, inquiry-based conversations about improving practice.
Advancing the standards: Serve up a pie chart to illustrate investment in professional learning
Pie charts, also known as circle graphs, are fascinating visuals that illustrate different proportions that constitute a whole. Read how pie charts promote accountability as they enable non-expert stakeholders to quickly understandwhat makes up the whole of your professional learning system.
By Hayes Mizell
In practice: Disjointed professional learning calls for building a strong foundation
In 2009, when Janet C. Johnson, education specialist for Atlanta Public Schools, enrolled in the Learning Forward Academy Class of 2011, her problem of practice was addressing a disjointed approach to professional learning in the district. Read how Johnson introduced the newly revised Standards for Professional Learning as a critical part of building a new foundation for the district\'s change process.
As told to Anthony Armstrong
Tool: Professional learning pie charts
Use this digital tool, based on Hayes Mizell\'s column in this same issue, to discover and create charts that enable stakeholders to quickly understand what makes up the whole of your professional learning system.