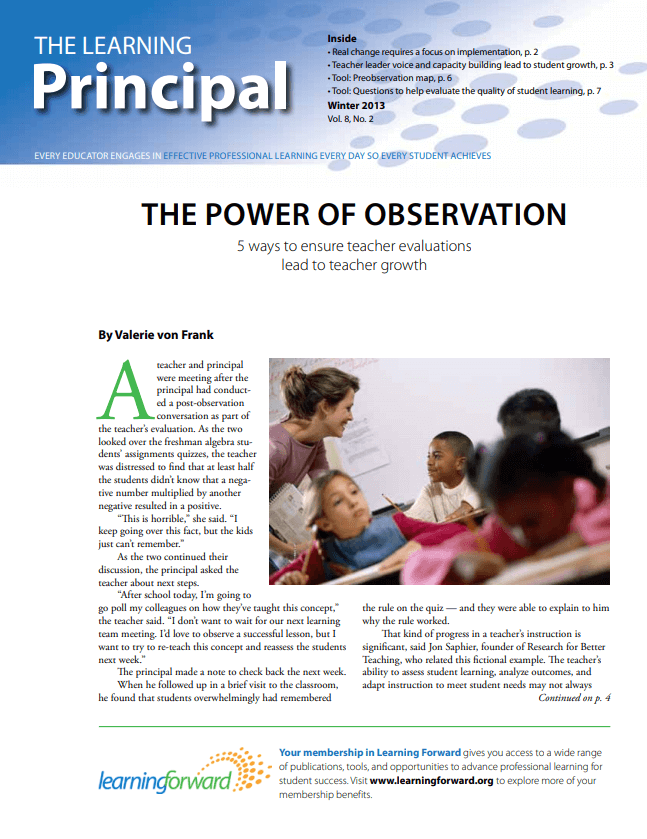 The power of observation: 5 ways to ensure teacher evaluations lead to teacher growth
By Valerie von Frank
The teacher's ability to assess student learning, analyze outcomes, and adapt instruction to meet student needs may not always show up on a state standardized exam. However, principals who pay attention to a range of measures of teacher effectiveness can provide more meaningful teacher evaluations that promote teacher growth. Read about several areas in which principals can concentrate to ensure growth-oriented evaluations.
Tools: Preobservation map and Questions to help evaluate the quality of student learning
Use these tools to focus on key details in classroom observations that can provide insight into the quality of student learning and teacher instruction.
Advancing the standards: Real change requires a focus on implementation
By Frederick Brown
A lot of change efforts and professional learning are well-intentioned, but simply don\'t bring about the kinds of changes in practice their designers envisioned. The Implementation standard tells us that successful implementation begins with adult learning and change process research; provides ongoing support for individuals, teams, and schools in a variety of ways; and includes \"constructive feedback and reflection to support continuous improvement in practice.\" Read how to consider the Implementation standard when planning professional learning.
In practice: Teacher leader voice and capacity building lead to student growth

By Ingrida Barker
When Principal Ingrida Barker started recruiting potential teacher leaders for the school\'s leadership team, she looked beyond the formal departmental titles and identified teachers who were well respected by their peers and could lead their departments in a school improvement process. Read how focus, coherence, and capacity building have helped these teacher leaders become a collaborative team that contributes to the school improvement process.