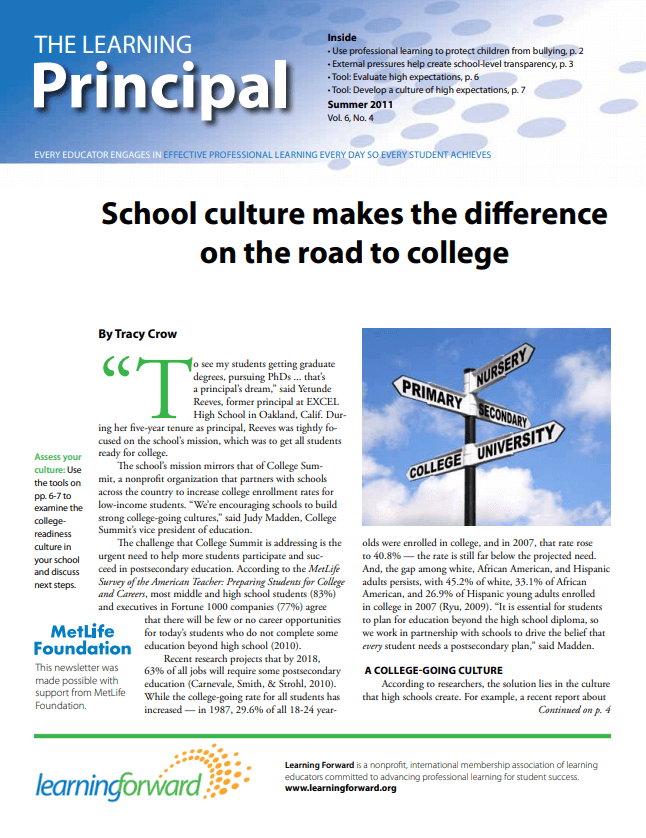 School culture makes the difference on the road to college
College Summit is a nonprofit organization that partners with schools across the country to increase college enrollment rates for low-income students by encouraging schools to build strong college-going cultures. Read about the principal's role in building educator and student capacity and how College Summit's efforts result in an 18% increase in college enrollment rates for partner schools.
By Tracy Crow
School leadership: Use professional learning to protect children from bullying
Leaders have a responsibility to develop their own capacity to build successful learning environments free from hatred.
By Frederick Brown 
From the research: External pressures help create school-level transparency
Examine a study that explored how school leaders responded to government policies or other external pressures, coupling regulation with classroom instruction.
By Tracy Crow

Tools: Evaluate high expectations and Develop a culture of high expectations
As part of the College Readiness for All Toolbox from the Pathways to College Network, these two pages offer opportunities for principals and school staffs to assess the college-going culture of their school and discuss next steps in building such a culture.