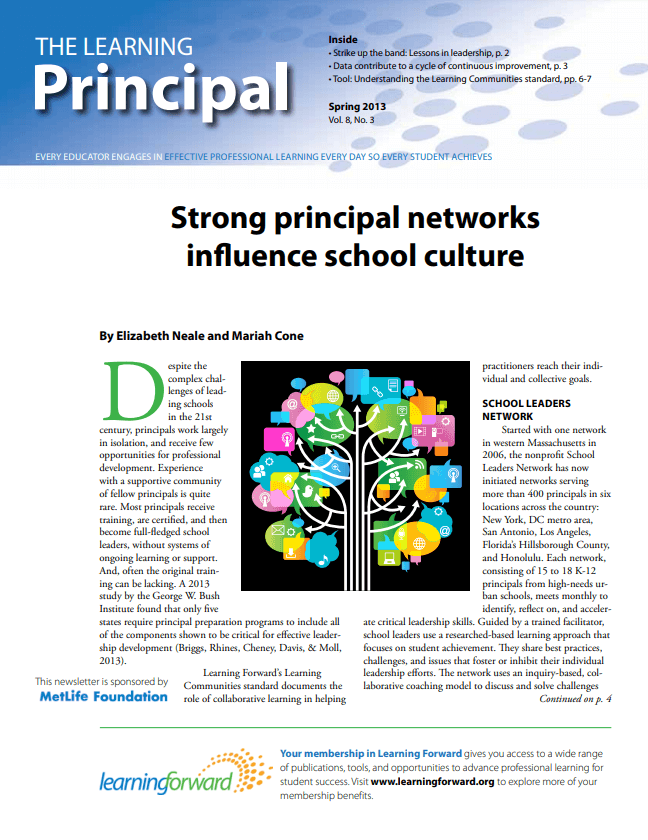 Strong principal networks influence school culture
By Elizabeth Neale and Mariah Cone
The Learning Communities standard documents the role of collaborative learning in helping practitioners reach their individual and collective goals. See how School Leaders Network brings networks of principals together to identify, reflect on, and accelerate critical leadership skills using a research-based learning approach that focuses on student achievement. Learn how they share best practices, challenges, and issues that foster or inhibit their individual leadership efforts while building a culture based on trust, collaborative learning, and collective responsibility.
Tool: Understanding the Learning Communities standard
Use this tool from A Playbook for Professional Learning by Stephanie Hirsh and Shirley Hord to help small groups better understand the Learning Communities standard, consider what behaviors represent the standard in action, and rewrite the standard in their own words.
Advancing the standards: Strike up the band: Lessons in leadership
By Frederick Brown
Frederick Brown shares his reflections on his high school band leader, Mr. White, who embodied the Leadership standard of the Standards for Professional Learning by developing capacity for learning and leading, advocating for learning, and creating support systems and structures.
In practice: Data contribute to a cycle of continuous improvement
By Jacqueline Medina
Jacqueline Medina, an elementary principal, shares how her school has fostered a data-responsive culture to improve instructional methods and student outcomes.