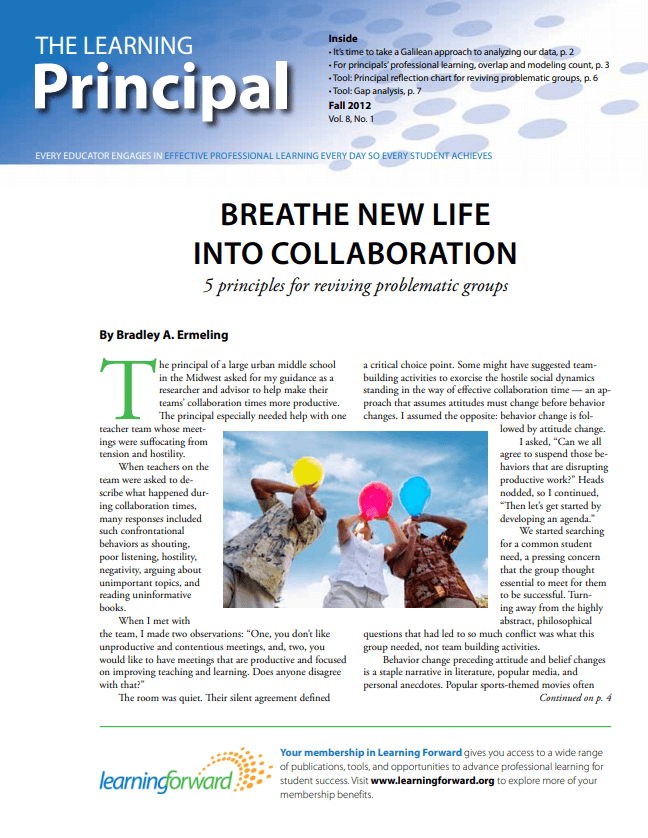 Breathe new life into collaboration:
5 principles for reviving problematic groups
By Bradley A. Ermeling
The principal of a large urban middle school in the Midwest asked for Bradley A. Ermeling's guidance as a researcher and advisor to help make their teams\' collaboration times more productive. While some might have suggested team-building activities to exorcise the hostile social dynamics standing in the way of effective collaboration time, Ermeling instead employed five key principles based on the assumption that behavior change leads to attitude change. Read how these principles helped him move a group of teachers from argumentation to collaboration that improved teaching and learning.
Tools: Principal reflection chart for reviving problematic groups and Gap analysis
Use these tools to help teams determine needs, identify problems, and reflect upon and prioritize actions to better support and/or revitalize staff groups.
Advancing the standards: It\'s time to take a Galilean approach to analyzing our data
By Frederick Brown
Sometimes the data tell us things about our systems or ourselves that we may not want to hear. Learn strategies for making meaning from the data in front of us instead of forcing it to fit a preconceived understanding.
In practice: For principals\' professional learning, overlap and modeling count
As told to Anthony Armstrong
Pam Davis-Webb, principal at Diven Elementary school in Elmira, N.Y., knows that principals\' own professional learning is in a constant time crunch. Read how she overlapped her own professional learning with teacher professional learning to create a focused start to the students\' day and inspire her school\'s professional learning community.
Presentation for sharing
Want to share the learning? After you read the article, use this presentation to share what you have learned with your team or colleagues.