In 1969, Ron Brandt organized a gathering of staff developers in Minneapolis to discuss the issues they faced in their relatively new field. Since that time – now 50 years ago – the gathering turned into a membership organization of more than 13,000 members.
Originally named the National Staff Development Council and rebranded as Learning Forward in 2010, the organization has evolved just as the field of professional learning has evolved.
Through the course of 2019 and into 2020, Learning Forward will recognize 50 years of building capacity and changing practice.
Here are some ways you can get involved and help us celebrate:
50th anniversary timeline
Take a look back at the history and highlights that started with a small group of staff developers collaborating together to improve their work. 
Social media
Follow our facebook event and share our celebration with your favorite social media, or share your favorite pictures and memories via Twitter or Facebook using #learnfwd50.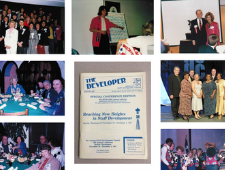 Share your favorite pictures from NSDC/Learning Forward
Upload your favorite pictures from the last 50 years, or you can share them via Twitter or Facebook using #learnfwd50, and we'll share them as part of our 50th anniversary celebration!