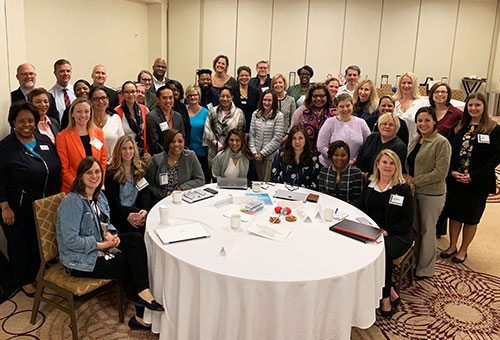 Teams from 11 districts gathered at a convening of the Redesign PD Community in April in Philadelphia, Pennsylvania. The network, which began in fall 2018, aims to increase the effectiveness of teams responsible for the planning and delivery of effective professional learning in their districts.
Each participating district creates a team aim specific to its local context, and teams also learn from one another. Using improvement science principles, Learning Forward serves as the network's hub, facilitating the learning and sharing practical resources.
Learning opportunities at the April convening included roundtable discussions and targeted networking; a microlab protocol for learning from peers using reflection and active listening skills; learning about principles of improvement science and measures of improvement; discussing successes and challenges; and planning next steps and the next convening in fall 2019.
Participant survey feedback was positive: 88% of respondents expected the roundtable and networking sessions to greatly influence their progress, and 60% said the same about the microlabs and a session focused on equity. Furthermore, 65% of community members agree or strongly agree that the work of this community will result in less work over time, and nearly half said it is already doing so.
For more information about the Redesign PD Community, visit the website.
---
---
Download the PDF version
---