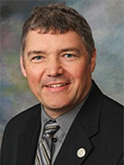 Vice President / Students
Kwantlen Polytechnic University (KPU)
Surrey, BC
Steve Cardwell
President
Steve Cardwell is vice president – students at Kwantlen Polytechnic University (KPU). Steve has had an exemplary career in education. He was previously professor of teaching at University of British Columbia and prior to this was the superintendent/CEO for five years with the Vancouver School Board and previously Superintendent for the Delta School District.
Steve has served as president of the BC School Superintendents' Association (BCSSA) and president of the BC Science Teachers' Association (BCScTA). He is a director on the Science World Board and serves on the Canadian Education Association Council (CEA). Steve has been a long-term active member of Learning Forward, co-chairing the local affiliate conference and serving on three Learning Forward Conference Host Committees.
Steve was awarded the Queen's Diamond Jubilee medal in 2013 for his outstanding service to public education. In 2015, he received the Distinguished Service Award from the BCSSA and was selected as one of UBC Faculty of Education's top 100 Alumni.
Steve values ethical leadership and responsibility, building and fostering strong working relationships, leading with technology, and demonstrating exemplary communication skills.  He holds a doctorate in Educational Leadership from Simon Frasier University (BC) and an MA and BSc from University of British Columbia.
Why I Value Learning Forward
I have been fortunate and privileged to serve on the Learning Forward Board for the past three years. During this time, I have engaged in deep professional learning and transformative leadership with my board colleagues, Learning Forward staff and many other educators within the organization and beyond. Through the relationships, dialogue and collegial support fostered by Learning Forward, I have gained the wisdom of practice and capacity as a collaborative professional to ensure that all students enjoy high quality learning.

— Steve Cardwell