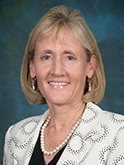 Superintendent of Schools
Santa Fe Independent School District
Santa Fe, TX
E. Leigh Wall
Past President
Leigh Wall serves as superintendent of schools for Santa Fe Independent School District in Santa Fe, Texas. She has completed 12 years in this district and 36 years as an educator in Texas and Louisiana. Santa Fe ISD is located in Galveston County and is a rural district serving approximately 5000 students.
Prior to her appointment as superintendent of schools, Leigh served in leadership positions as teacher and administrator at elementary, junior high, and high school levels.  In addition, experiences as a coach, drill team, and cheer director, as well as teaching assignments at all levels have provided a broad range of experiences to support district leadership.
As a member of Learning Forward for 16 years, Leigh has presented and participated in several presentations and learning affiliations and networks facilitated through Learning Forward. Currently as a member of Galveston County Learning Leaders, her team and district works collaboratively with other local districts to strengthen learning systems and improve teacher and leadership practice to increase student achievement across districts.
Leigh holds a Bachelor of Science in Education and Master of Science in Education from Louisiana State University, a Master of Science in Educational Leadership from the University of Houston, and a Doctorate in Educational Leadership from Walden University.
Why I Value Learning Forward
The opportunity to serve as a trustee and to be a part of the Learning Forward team is an honor and professionally rewarding in so many ways. The mission of Learning Forward is directly aligned with school leadership and as a public school Superintendent, building the capacity of leaders through highly effective professional learning is key to school improvement and student achievement. Serving on the board of this prestigious organization allows for collaboration and learning that is significant to me professionally in improving my practice as an educator, and in strengthening our learning system. As a trustee, the opportunity to work alongside national and international leaders allows us to develop our passion for improving student achievement through professional learning in order to impact the future of children.

— Leigh Wall