Learning Forward Advocacy
Petition: A Recommitment to Education and Professional Learning
Educators have felt the pain of the past year acutely. We urge policymakers to recognize that educators require critical investments to educate every student. Our students are experiencing our nation's longstanding inequities more acutely than ever. The pandemic compounds our collective need for support.
Now is the time for a new beginning. Education must be a focal point of government efforts to come together, heal, and improve our world. Only when every student enjoys access to great teaching and learning will we have a thriving, equitable, and just society.
Therefore, we call on local, state, and federal governments to appropriately devote substantial resources towards the following educational priorities:
Emergency COVID relief funding for schools and school districts
Effective, job-embedded, and ongoing professional learning delivered using technology tools
Social and emotional supports for educators and students
Home broadband connectivity and appropriate learning devices for all educators and students
Every educator has the right to experience great learning every day. Every student has the right to experience great teaching every day. Our future depends on it.
On July 13, the U.S. House of Representatives Appropriations Committee approved the fiscal year 2021 education funding bill, voting to support a $22.5 million increase for Title II-A. This is a win for Learning Forward as it not only preserves last year's $76 million increase for this critical professional learning program but adds money in a year when Congress' budget ceiling is not very high. If this bill becomes law – and it still will require the full House to approve, the Senate to approve and the President to sign it, Title II-A will receive $2.154 billion in funding next year. A special shout out to all of the Learning Forward members who reached out to their members of Congress to call for this increase. Your advocacy makes a difference. The legislative report language accompanying this bill justified the increase because of Title II-A's focus on two things Learning Forward prizes – teacher skills and leadership:
Title II–A grants provide states and school districts with a flexible source of funding to strengthen the skills and knowledge of teachers, principals, and administrators to enable them to improve student achievement. The committee is supportive of efforts to strengthen school leadership through the Title II–A program. Research has consistently demonstrated that school leadership is second only to classroom instruction as an influence on student learning, and 97 percent of teachers say that the principal is responsible for determining if a school can attract and retain great teachers. The committee particularly takes note of the fact that, under ESEA, states may reserve approximately three percent of their Title II–A formula allocations to carry out activities for principals and other school leaders and encourages states to make use of this optional reservation so as to maximize the impact of the Title II–A program. The committee directs the department to encourage, through guidance or technical assistance, SEAs to utilize the school leader three percent Title II–A set-aside to better drive school improvement efforts.
The full House is expected to vote on this bill before August. Learning Forward gives a special shout out to Congressman Ro Khanna (CA-17) and Senator Tammy Baldwin (WI) for their op-ed in last week's Time Magazine, "
We Must Invest in Teachers to Prevent COVID-19 From Exacerbating the Racial Educational Divide
." In this op-ed, Rep. Khanna and Sen. Baldwin champion federal support for professional development for educators, particularly during this pandemic. They acknowledge that teachers are the most important school-based factor in student success and, as such, an investment in professional learning is critical. They call on the federal government to be a partner in supporting teachers as they support the needs of their students. Funding to support these unprecedented times in education is imperative and using those funds to invest in professional learning will yield positive results for students. We thank Rep. Khanna and Sen. Baldwin for using their voice and leadership to elevate this important issue.
Melinda George is Learning Forward's Chief Policy Officer. Melinda leads Learning Forward's policy work on critical programs such as Title IIA, including working with Learning Forward members to be strong advocates on behalf of professional learning. She also co-leads the What Matters Now Network, a tri-state network focused on increasing the frequency and equity with which teachers access and engage in effective job-embedded professional learning grounded in the use of high-quality curriculum and instructional materials.
Evidence, evidence, evidence
Evidence of impact is not optional. From your ESSA plans to Title II to talking with your district superintendent, everyone wants to know when professional development is making an impact and how you know. Learning Forward is here to help. We invite you to join your peers from across the U.S. to share your successes here.
Tell us what Title II funds in your school or district, and most important, what outcomes you see as a result. Outcomes might include improved graduation rates or assessment scores, improvements for specific populations of students, or other indicators that students are experiencing more meaningful learning.
ESSA Toolkits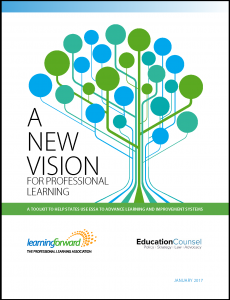 A New Vision For Professional Learning: A Toolkit to Help
States Use ESSA to Advance Learning and ImprovementSystems. This toolkit helps leaders leverage professional learning as
an essential tool in overcoming systemic inequities and guaranteeing
excellence for all.
Agents for Learning Toolkit: A Guide to Amplifying Teacher
Voice and Stakeholder Engagement. This toolkit suggests ways to cultivate teacher voice and agency in policy decisions and the implementation of professional learning.
Webinar series: Speak up for Title II
Learning Forward hosted a series of advocacy webinars designed to help educators build their advocacy skills. Each free webinar provides background information, the legislative status of Title II, and offers practical steps for how you can engage in this critical fight.
On the first Monday after Election Day and more than two months late, the Senate Appropriations Committee finally introduced its versions of all twelve FY21 Appropriations bills, including Labor HHS Education Appropriations. Overall, the Senate education spending bill provides somewhat less money for the Department of Education and its programs than does the House version, […]
Read more

→
Congratulations to President-elect Joe Biden and Vice President-elect Kamala Harris. Election 2020 is drawing to a close. It has been a long campaign season and regardless of your political views, it is time to come together around our shared commitment to preK-12 education. Our children are the future and our educators are their mentors and […]
Read more

→
Learning Forward Advocacy
I love the emphasis on advocacy for our field – the sample templates Learning Forward shares to communicate with state reps regarding policy, the up-to-date info about policy and legislation that could impact our field. I also really appreciate that Learning Forward is the standard-bearer for professional learning standards and provides a framework that supports calibrated understanding of […]
The policy updates are, for me, one of the most valuable assets of Learning Forward.
Stay apprised of federal and state activities and be part of our inner circle of policy advocates.