Dean Shareski shared the above tweet in October 2021 that sparked robust debate, with educators of all levels sharing opinions on the topic. Learning Forward is keenly interested in Shareski's question, so we reshared his tweet and posed this question to teachers earlier this year. We received more than 100 responses across Twitter and LinkedIn, making it our most engaging post, generating more than 2,500 likes and shares.
This blog post includes a sample of the 100+ responses, organized by six themes that emerged — professional learning should be:
job-embedded
solution-oriented
teacher-led
personalized/differentiated
paid time or paid for
considerate of educators' emotional and mental health
For further exploration of these concepts, Learning Forward resources are listed below each theme.
Professional learning should be job-embedded.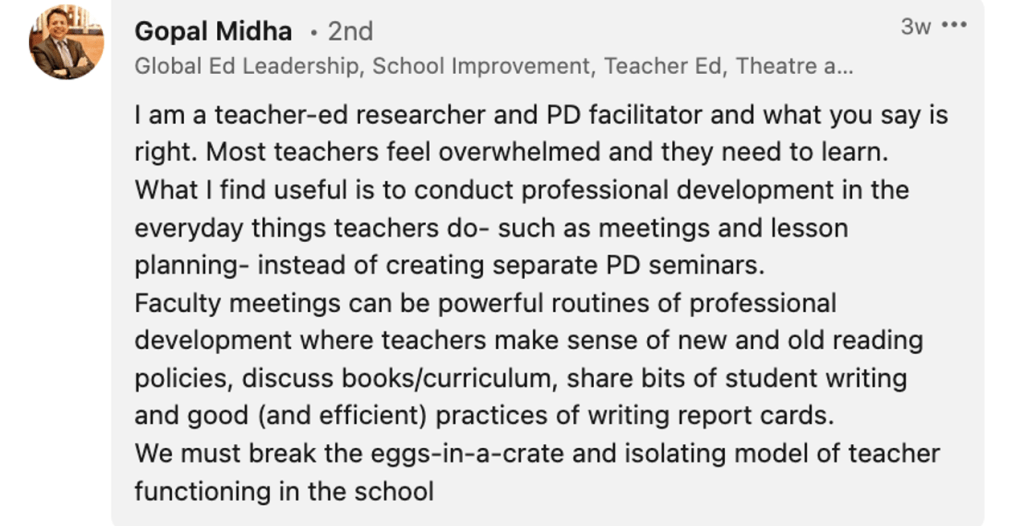 In Why Professional Development Matters, Hayes Mizell wrote, "professional development is most effective when it occurs in the context of educators' daily work."
In 2010, Learning Forward co-produced a brief on job-embedded professional development to educate the public of its importance.
Professional learning should provide immediate solutions.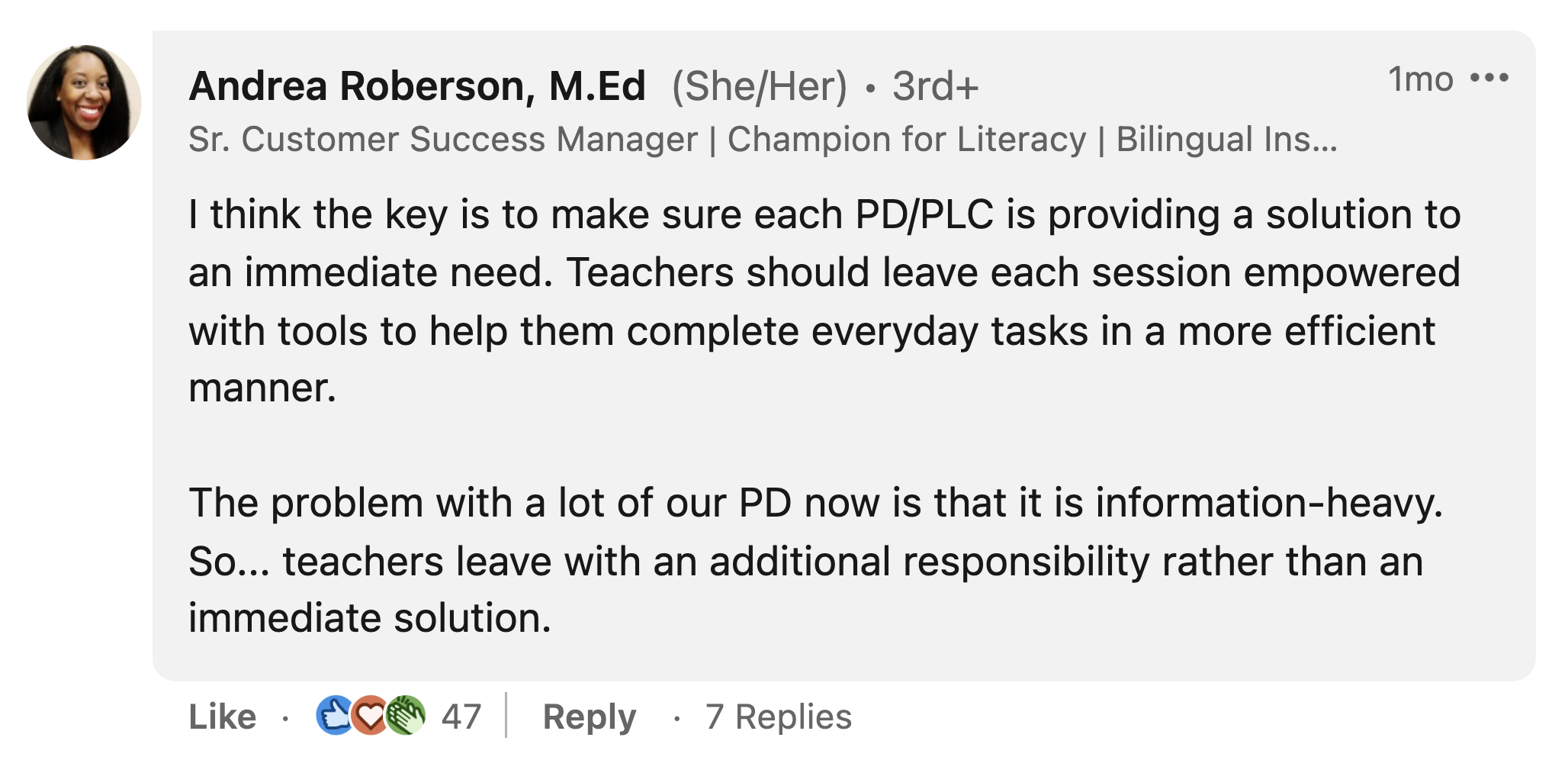 Explore Learning Forward webinars and tools for immediate solutions that can be applied the same or next day.
Professional learning should be teacher-led.
The Culture of Collaborative Inquiry standard states, "When educators at every role, grade level, and content area collaborate for continuous improvement and support their colleagues' ongoing learning and development, they increase learning opportunities for each student."
Our services help maximize the impact of professional learning in schools by ensuring that teacher learning teams engage in a cycle of continuous improvement focused on meeting their students' unique learning needs.
The recently released Action Guide for Teachers lists key roles and responsibilities to help teachers drive critical actions to achieve school goals and priorities. Included in this guide are reflection questions that teachers can use (with their colleagues) to determine action steps they will prioritize to develop, strengthen, transform, and sustain professional learning.
Professional learning should be personalized/differentiated.
The Learning Designs standard addresses the importance of setting relevant and contextualized goals.
Learning Forward has spent more than 50 years learning, listening, and working with districts to craft customized professional learning solutions where educators feel seen, valued, understood, and supported in their efforts to meet students' needs.
Professional learning should be paid time or paid for.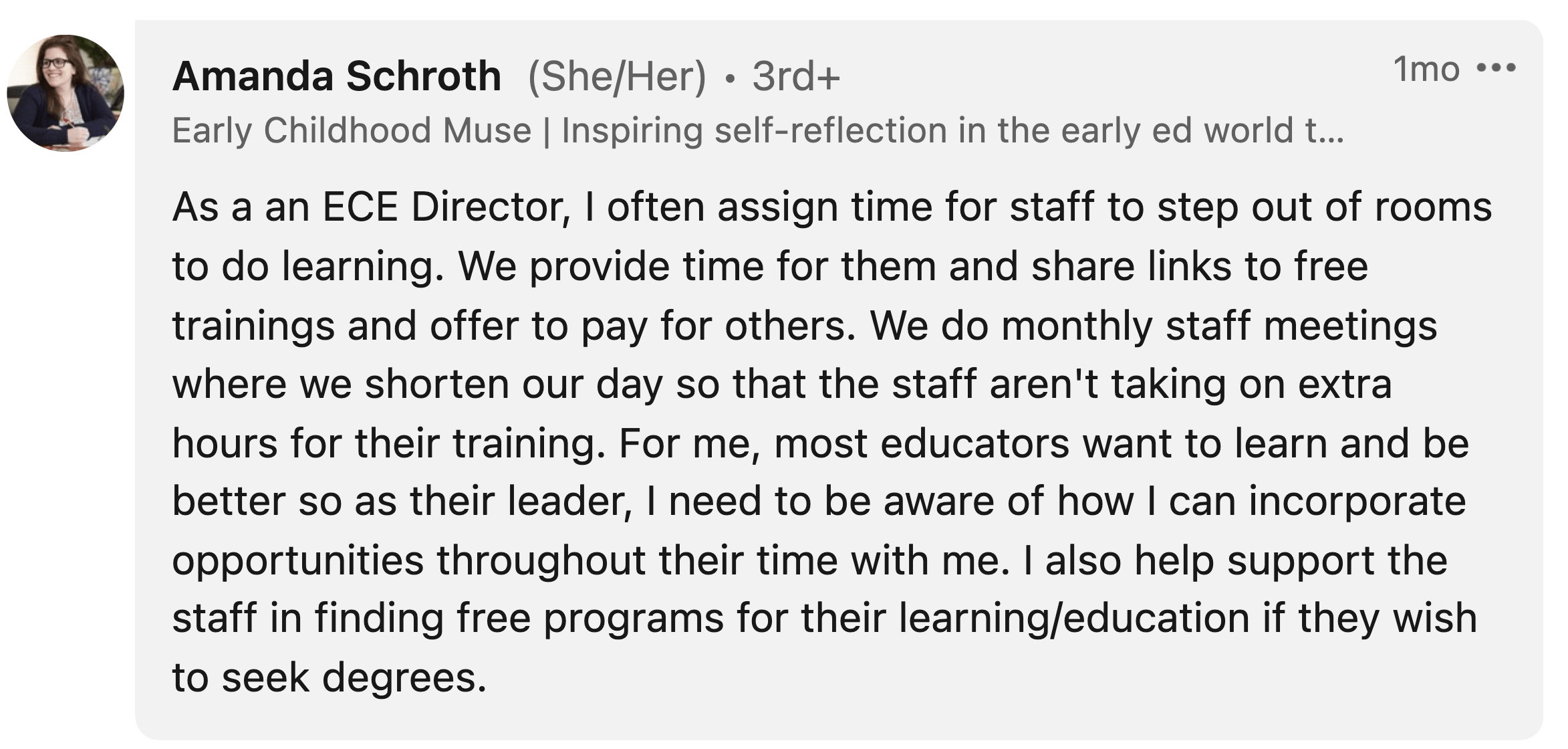 Learn more about our advocacy efforts, Title II funds, and how you can advocate for these funds at poweredbytitleii.com.
Professional learning should address educators' emotional and mental health.
This year, we've dedicated one column in each issue of our journal to educator wellness.
As stated in "8 dimensions of wellness for educators," teacher wellness influences school culture and climate, instruction, and students' academic, personal, and emotional development.
Stacey Winslow's popular blog post "Professional learning is self-care" makes the case that professional learning is a form of self-care for educators, and that engaging in inquiry-based learning focused on areas of interest can invigorate and re-energize them.
Educator health and wellbeing: Put on your own oxygen mask first webinar features a panel of educators who share how they focus on strengthening and caring for their own needs so that they are healthier and better able to help those who count on them.
Follow us on Twitter and LinkedIn to participate in more timely conversations with educators presenting a range of diverse viewpoints.
Learning Forward's database of more than 4,000 professional learning articles, tools, webinars, data graphics, and full issues of The Learning Professional, is an online hub of actionable resources. Click here to explore this collection of public and members-only content. To access all resources anytime, join Learning Forward now.
Teachers are overwhelmed and tired, but still want and need to learn and grow. How do we design professional learning that honors both of these truths? Educators weigh in.
Click To Tweet