Establishing problems of practice and engaging in face-to-face networking can have a huge impact on any professional learning program. Read on to see how these strategies have contributed to transforming the practice of two graduates of Learning Forward's Academy.
How has the Academy model affected your work in professional learning?
"I began with an initial problem of practice and with this two-and-a-half year academy model, I was able to see how my problem of practice changed and evolved. I actually received two promotions through the process, so you can imagine my challenges. Really I had new challenges; I had new opportunities to refine a problem of practice. Through the refinement I saw that I had this transformation that professional learning needs to begin with the end in mind, regardless of the concept.
"Also, a critical component was the coaching that's offered through the academy model. So the coach helps by asking probing questions, the coach is considering your goals and offering opportunities to reflect, and through my reflecting I realized some changes that we needed to make: some points that were really critical and some things that were missing that were really powerful opportunities."
Anna Mary Smith
Director, Gwinnett County Public Schools
How did establishing a problem of practice help with your school improvement work?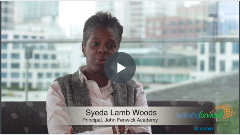 "I entered a school with most of our students not performing at a reading level above their grade level, which is second grade. With the Academy, I've been able to present a problem of practice. One thing I really liked about the academy is they give us work that pertains to what we are doing. That's what I'm excited about. Its not like an assignment, it's something we were doing.
"So we brought our problem of practice and they helped with professional development, and colleagues and others give suggestions and plans to work through it. In the process, I was able to bring back some of the things introduced to my staff, as well as prepare our students for success and implement of all the things I've learned in the Academy. We were able to produce positive gains in our student reading both on and above level."
Syeda Lamb Woods
Principal, John Fenwick Academy
How did face-to-face collaboration add to your Academy experience?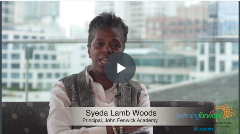 "That experience was great. Because sometimes as educators we feel isolated, like no one thinks the way we think. You meet someone from Hawaii, you meet someone from Alabama, you meet someone from Nashville, you meet someone from Pennsylvania. You meet people from all over, and they all have the same mindset for student success. That was phenomenal to me; everyone was on the same page.
"It didn't matter how bad the situation looked, the statistics were never bad enough that anyone would say, 'Oh, that can't work.' They were all determined to say, 'What can we do to help?'
"The coaches were wonderful. They constantly reminded us we can do better, to stick with it, and see what else can we do to evolve. If there are any hindrances, if there are any obstacles, we can cross them. It was a positive atmosphere because of the fact that everyone was positive about the work. We all had the same mindset of student success and that was very, very encouraging."
Syeda Lamb Woods
Principal, John Fenwick Academy
Learning Forward's Academy is an extended learning experience for individuals and teams that immerses members in a model of inquiry- and problem-based learning. Academy members work collaboratively to gain knowledge to solve significant student learning problems in their schools, districts, or organizations. The Academy seeks to understand individual members' needs and then assist them in meeting objectives through a collaborative learning environment and the support of experienced coaches.